Welcome to the Voice Acting Mastery Field Report!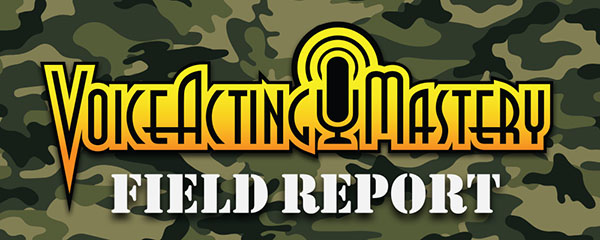 Voice Acting Mastery: Field Report is designed to bring you up-to-date information from the ever-changing world of voice over, as told by actual professionals working in the field!
Meet our three correspondents: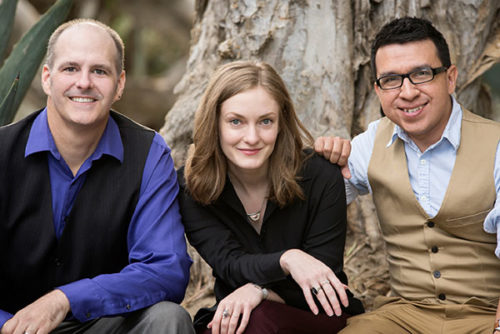 from left to right:
DanWill McCann, Maureen Price & Tom Bauer!
Read their Bios
Each of our Field Report correspondents has personal experience overcoming the same career challenges you face as a working or aspiring voice actor! In this podcast, they'll be sharing their own viewpoints as well as interviewing voice actors, mentors, and other industry professionals. You'll get to hear not only from seasoned veterans, but also from new and up-and-coming voice talents who can share what it's really like to approach the industry right now. Our intrepid correspondents leave no stone unturned, reporting from the front-lines of the voice over world to bring you the latest and greatest news, tips and advice to help you succeed as a voice actor!
The Field Report will be released on the 1st Wednesday of every month.
You can listen to the podcast on the main blog feed of this website, or by clicking on one of the links below to access an episode directly.
Thanks for listening!
VAMFR 001 | Introducing the Voice Acting Mastery Field Report and Correspondents
VAMFR 002 | Interview with Robin Armstrong, Part 1
VAMFR 003 | Interview with Robin Armstrong, Part 2
VAMFR 004 | Interview with Robin Armstrong, Part 3
VAMFR 005 | Interview with Matthew Mercer, Part 1
VAMFR 006 | Interview with Matthew Mercer, Part 2
VAMFR 007 | Interview with Erika Harlacher, Part 1
VAMFR 008 | Interview with Erika Harlacher, Part 2
VAMFR 009 | Marketing and Self-Promotion for Voice Actors, Part 1
VAMFR 010 | Marketing and Self-Promotion for Voice Actors, Part 2
VAMFR 011 | Marketing and Self-Promotion for Voice Actors, Part 3
VAMFR 012 | Interview with Tony Oliver, Part 1
VAMFR 013 | Interview with Tony Oliver, Part 2
VAMFR 014 | Interview with Tony Oliver, Part 3
VAMFR 015 | Introducing the New Lineup of Field Report Correspondents
VAMFR 016 | Interview with Mela Lee, Part 1
VAMFR 017 | Interview with Mela Lee, Part 2
VAMFR 018 | Interview with Mela Lee, Part 3
VAMFR 019 | Theme Park Voice Over, Part 1
VAMFR 020 | Theme Park Voice Over, Part 2
VAMFR 021 | Theme Park Voice Over, Part 3
VAMFR 022 | Interview with Kelly Moscinski, Part 1
VAMFR 023 | Interview with Kelly Moscinski, Part 2
VAMFR 024 | Maintaining Good Psychological Health as a Voice Actor, Part 1
VAMFR 025 | Maintaining Good Psychological Health as a Voice Actor, Part 2
VAMFR 026 | Maintaining Good Psychological Health as a Voice Actor, Part 3