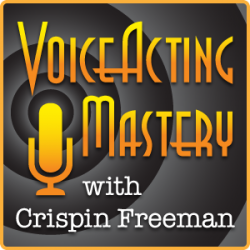 VAM 101 | Interview with Richard Horvitz, Part 1
Welcome to episode 101 of the Voice Acting Mastery podcast with yours truly, Crispin Freeman!
As always, you can listen to the podcast using the player above, or download the mp3 using the link at the bottom of this blog post. The podcast is also available via the iTunes Store online. Just follow this link to view the podcast in iTunes:
http://www.voiceactingmastery.com/podcast
Prepare yourself, because you're in for a real treat!
Welcome to the first part of my interview with my personal voice acting mentor, the amazing Richard Horvitz!
Richard has voiced some of the most iconic characters in animation including Daggett in the Angry Beavers, Zim from Invader Zim and Billy in the Grim Adventures of Billy and Mandy.
Not only is Richard an accomplished voice actor, but he's also an amazing teacher. When I first arrived in Los Angeles back in 2001, I was in desperate need of a competent voice acting coach to get me up to speed in this competitive market. Even though I had extensive theatrical acting experience and had gotten my voice acting start in New York City, moving to LA meant taking my skills to a higher level. I was overwhelmed and a bit intimidated by the world of Hollywood voice acting, and I wasn't sure how best to gain momentum or achieve success.
Fortunately, I was introduced to Richard, and I immediately recognized how insightful his coaching was. I studied with Richard regularly in the early part of my Los Angeles career and I'm deeply indebted to him for his generosity, his candor and his encouragement. Richard's coaching was my secret weapon for gaining a solid foothold as a voice actor in LA, and I'm so happy to be able to share his wisdom with you!
Before we get started, I should let you know that Richard's enthusiasm is infectious and because of that we ended up talking for far longer than I usually do with my interview subjects. That means you'll be getting some extra long episodes in this series of interview sections. I can't think of a better way to introduce my new monthly podcast release schedule than to provide my listeners with some bonus content, so I hope you enjoy the extra time as much as I did!
If you are interested in taking class or being coached by Richard, please check out the classes section of Richard's website!
Download Voice Acting Mastery Episode #101 Here (MP3)