Posted by
Crispin Freeman
on Jul 5, 2017 in
Acting
,
Agents
,
Animation
,
Booth Etiquette
,
Casting
,
Commercials
,
Demos
,
Field Report Podcast
,
Improv
,
Interviews
,
LA Voice Acting Workshops
,
Microphone Technique
,
Mindset
|
0 comments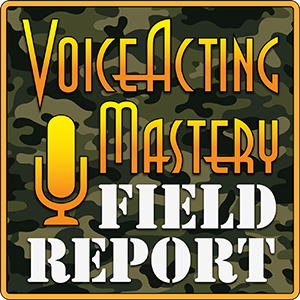 VAMFR 022 | Interview with Kelly Moscinski, Part 1
Welcome to episode 22 of the Voice Acting Mastery: Field Report podcast!
You can listen to the podcast using the player above, or download the mp3 using the link at the bottom of this blog post. The podcast is also available via the iTunes Store online. Just follow this link to view the podcast in iTunes:
http://www.vamfieldreport.com/podcast
This episode is the first part of DanWill McCann's interview with Kelly Moscinski, the owner and head of casting for The Voicecaster, a busy and well respected recording and rehearsal studio in Burbank, California. Nestled in between several major Hollywood studio film lots, The Voicecaster helps cast and record projects from all areas of Voice Over including, commercials, industrial narration, video games, animation, and more! The Voicecaster office was originally founded back in 1975 and has been in business ever since. Kelly had over a decade of experience in the production side of the voice over industry before she was hired at the Voicecaster, first as an assistant and later as a full time casting director. The previous owner of the Voicecaster admired her passion, commitment and ambition and it was clear to him that Kelly would be the ideal steward for the company moving forward. After three and a half years of working for them as an employee, Kelly was offered a chance to buy the business and she jumped at it. Kelly has owned the Voicecaster since 2013 and the company has flourished under her leadership.
In this episode, we'll get to know Kelly and her studio as well as learn more about how she got where she is today. DanWill is especially excited to share with you Kelly's tips and tricks for voice actors to help us perform our best during auditions! From a performer's perspective, the auditioning process can be very mysterious. So much of it happens before an actor even arrives at the studio to record. Every audition DanWill goes into, he often wishes he could be a fly on the wall to hear the conversation of the casting agents and marketing representatives on the other side of the glass from where he's standing in the recording booth. DanWill would love to hear what informs their choices and how they finally decide on which voice actor will suit their project. DanWill's really grateful that Kelly was generous enough to share with us her stories and advice on how to navigate this potentially intimidating process. Getting such insider information has helped him feel more confident when he approaches auditioning and we have a feeling you will enjoy and value her information as much as DanWill did.
The VAM Field Report will be released on the 1st Wednesday of every month so stay on the look out for it!
Download VAM Field Report Episode #22 Here (MP3)