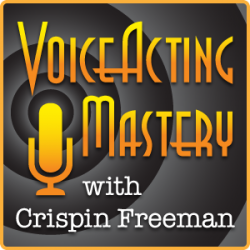 VAM 103 | Interview with Richard Horvitz, Part 3
Welcome to episode 103 of the Voice Acting Mastery podcast with yours truly, Crispin Freeman!
As always, you can listen to the podcast using the player above, or download the mp3 using the link at the bottom of this blog post. The podcast is also available via the iTunes Store online. Just follow this link to view the podcast in iTunes:
http://www.voiceactingmastery.com/podcast
Welcome to the third and final part of my interview with my personal voice acting mentor, the amazing Richard Horvitz!
Richard has worked on many famous animated shows including Angry Beavers, Invader Zim and the Grim Adventures of Billy and Mandy.
Richard is also a teacher of voice acting and offers both classes and private coaching through his website at RichardHorvitz.com
In the last episode, Richard shared with us his incredibly useful 5 step process for helping an actor play pretend more fully. If you haven't listened to that episode yet, I recommend you go back and check it out. We reference those 5 steps quite often in our discussion.
In this episode, I get to reveal to you the famous animated character from the late 60's/early 70's that Richard and I both dearly love. It's fascinating to me that Richard and I are such different types of actors and yet we both have an amazing appreciation for the same character. Richard also talks about when it's appropriate for a voice actor to say no to auditioning for certain projects. We wrap up our conversation with Richard's final advice to aspiring voice actors as well as information on how to contact Richard in order to take class with him. I'm honored to present you the final part of my interview with my voice acting mentor.
If you are interested in taking class or being coached by Richard, please check out the classes section of Richard's website!
Download Voice Acting Mastery Episode #103 Here (MP3)