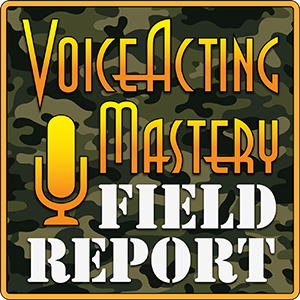 VAMFR 004 | Interview with Robin Armstrong, Part 3
Welcome to episode 4 of the Voice Acting Mastery: Field Report podcast!
In this episode our correspondent, Ashley Huyge, continues her discussion with writer, director, and VO talent, Robin Armstrong.
As of now, there's no traditional academic path for voiceover. You can't go to college, study for four years and leave with a degree in voiceover. Finding someone to guide you as a mentor is invaluable and in today's episode Ashley is joined by one of her mentors, actor, director and VO talent, Robin Armstrong. In the two previous episodes of this interview, Robin has treated us to stories about his journey to becoming a voiceover talent, and how he keeps his business and artistry balanced. Today he'll be sharing a couple of very important concepts: generosity and community. It's due to Robin's generosity and his ability to develop his community that he and Ashley met. I think you'll find the final part of their interview very enlightening.
The VAM Field Report will be released on the 1st Wednesday of every month so stay on the look out for it!
Download VAM Field Report Episode #4 Here (MP3)