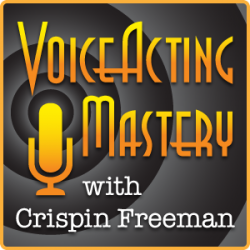 VAM 027 | Vocal Health
Welcome to episode 27 of the Voice Acting Mastery podcast with yours truly, Crispin Freeman!
As always, you can listen to the podcast using the player above, or download the mp3 using the link at the bottom of this blog post. The podcast is also available via the iTunes Store online. Just follow this link to view the podcast in iTunes:
http://www.voiceactingmastery.com/podcast
In this episode, I want to talk about Vocal Health. Your voice is your instrument. Your artistry and your livelihood as a voice actor depend on keeping your voice healthy and in good shape. But how much do you really know about how your voice works? What can you do to keep your voice healthy and ready for action and what should you absolutely avoid in order to keep from damaging your voice? Let's take a look at how to care for the engine that drives your entire voice acting career: your voice.
The topic of Vocal Health can be broken down into three subjects.
Vocal Production
Vocal Maintenance
Vocal Recovery
Vocal Production is the mechanics of how your body produces sound using your throat. Vocal Maintenance refers to the regular regimen of exercises and health practices that will help keep your voice in good shape. Vocal Recovery is when your voice is suffering, either from illness or abuse, and you'd like to do your best to get it healthy again as soon as possible.
I spend a lot of time exploring all three aspects of vocal health including the golden rule:
If anything you're doing vocally hurts your throat, don't do it.
Also, I mention two resources to help you with your Vocal Health.
The first is Kristin Linklater's book, Freeing the Natural Voice
, a great book on vocal production.
The other is my favorite tea for helping a hurting voice recover. It's called Throat Coat
.
I hope you enjoy the episode!
Download Voice Acting Mastery Episode #27 Here (MP3)