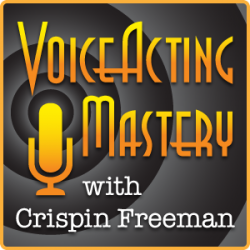 VAM 094 | Interview with Phil LaMarr, Part 2
Welcome to episode 94 of the Voice Acting Mastery podcast with yours truly, Crispin Freeman!
As always, you can listen to the podcast using the player above, or download the mp3 using the link at the bottom of this blog post. The podcast is also available via the iTunes Store online. Just follow this link to view the podcast in iTunes:
http://www.voiceactingmastery.com/podcast
This is the second part of my interview with the amazing Phil LaMarr.
Phil's roles in animation include Hermes Conrad in Futurama, the John Stewart Green Lantern in Justice League, Kit Fisto in Star Wars: Clone Wars and the title character in Samurai Jack. I'm incredibly grateful to Phil for taking time out of his busy schedule to talk to my listeners.
In the previous episode, Phil discussed some of the challenges he faced during the first year he decided to pursue acting as a full-time career. Those experiences made him really take stock of his situation and decide if acting was something he truly wanted to do. He realized that he actually had some personal judgements about how one should pursue acting and those limiting beliefs were keeping him from progressing. Once he let go of those judgements, he started to see things change.
In this episode we discuss the details of how those changes began to take shape. Phil's enthusiasm for improvisational acting had a profound affect on the trajectory of his career. It was the opportunities that his improvisational skills opened up for him that eventually gave him a chance to start working as a voice actor. We begin this segment of our chat with me asking him to give a quick recap of how his acting career began.
Download Voice Acting Mastery Episode #94 Here (MP3)