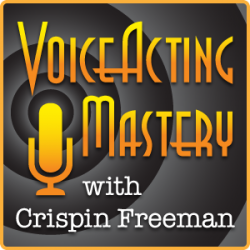 VAM 114 | The Computer Skills and Audio Knowledge You Need to Be a Voice Actor, Part 1
Welcome to episode 114 of the Voice Acting Mastery podcast with yours truly, Crispin Freeman!
As always, you can listen to the podcast using the player above, or download the mp3 using the link at the bottom of this blog post. The podcast is also available via the iTunes Store online. Just follow this link to view the podcast in iTunes:
http://www.voiceactingmastery.com/podcast
In the next few episodes I want to discuss the technical skills you need in order to succeed as a voice actor. It wasn't so long ago that voice actors did not need to concern themselves with the technical aspects of recording and manipulating audio. Up until the late 20th Century, most professional recording equipment was far too expensive for individuals to own. The majority of voice actors didn't have their own home studios, nor were they expected to have the expertise to run sophisticated recording equipment, so most of that was handled by studio engineers. In the 21st Century, that's all changed. With the advent of the internet, digital audio, and more inexpensive home recording equipment, every voice actor is now expected to be able to record themselves at home on a professional level and to be able to manipulate and distribute audio files online to casting directors and clients.
This means that if you want to be professionally competitive as a voice actor, you need to master some technical skills in two important areas: Computers and Audio Recording. I'm going to spend this episode outlining what you must know about Computers in order to thrive in the world of voice over. In the next episode, I'm going to discuss the ins and outs of Audio Recording and what mistakes to avoid when trying to record professional level audio.
I realize that some of you may be nervous about learning technical skills. You may find computers and professional recording equipment confusing or intimidating. Fortunately, it has never been easier to learn how to use this technology to help advance your career. In addition to this podcast, there are classes online, instructional videos on YouTube and entire online communities of people working to learn the same skills you are striving to master. So don't despair! Instead, I encourage you to imagine the satisfaction you will get from mastering these technical skills and the confidence you'll gain from knowing you can handle all the technical aspects necessary to further your voice acting career. Such knowledge is cumulative: once you learn the basics, it'll get easier for you to understand any new developments in the worlds of computers and audio recording. So I hope you're as excited to learn these skills as I am to share them with you!
As always, you can check out the Toolbox section of this website for my recording software and hardware recommendations.
I also reference some Macintosh utility software in the episode.
For bootable backups, I recommend SuperDuper.
For maintaining a health disk directory, I recommend Disk Warrior.
Download Voice Acting Mastery Episode #114 Here (MP3)