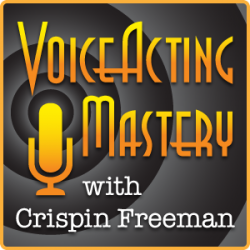 VAM 089 | Better Voice Acting Through Critical Listening
Welcome to episode 89 of the Voice Acting Mastery podcast with yours truly, Crispin Freeman!
As always, you can listen to the podcast using the player above, or download the mp3 using the link at the bottom of this blog post. The podcast is also available via the iTunes Store online. Just follow this link to view the podcast in iTunes:
http://www.voiceactingmastery.com/podcast
In this episode, I'd like to talk about a skill that is crucial to becoming a better voice actor: Critical Listening.
I touched on this topic briefly in my interview with Edward Bosco and Kimlinh Tran back in episodes 33, 34 and 35 of the podcast. When I asked Kimlinh what advice she would give to aspiring voice actors, she explained that the best thing they could do is to develop their Critical Listening Skills. I agreed.
If you're going to pursue voice acting professionally you need to be able to listen to an actor's performance, understand what acting choices they made, and then decide whether or not those acting decisions are the best ones to serve the character and the story. Until you develop the ability to listen to performances critically in both other actor's work and in your own acting, you won't know what you need to do to improve your performances. So let's spend this episode talking about what it takes to develop your critical listening skills.
I hope you enjoy the episode!
Download Voice Acting Mastery Episode #89 Here (MP3)