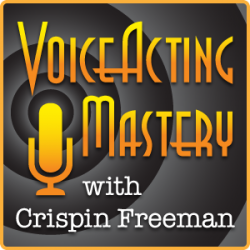 VAM 096 | Interview with Phil LaMarr, Part 4
Welcome to episode 96 of the Voice Acting Mastery podcast with yours truly, Crispin Freeman!
As always, you can listen to the podcast using the player above, or download the mp3 using the link at the bottom of this blog post. The podcast is also available via the iTunes Store online. Just follow this link to view the podcast in iTunes:
http://www.voiceactingmastery.com/podcast
This is the fourth part of my interview with the amazing Phil LaMarr.
Phil has played major roles in such animated shows as Futurama, Justice League, Star Wars: Clone Wars and Samurai Jack.
In the last episode, Phil shared with us the experience from his childhood that inspired him to become an actor. That fascination has fueled his pursuit of an acting career ever since.
In this episode Phil talks with me about his experiences working as an African-American actor in Hollywood. There are unique challenges that any minority actor has to face when trying to build a career in the entertainment industry. In order to give this topic the attention it deserves, I've decided to dedicate this entire episode to the subject.
No matter what your ethnic background may be, exploring issues of minority casting and producer expectations can be incredibly helpful in charting your own acting career.
Download Voice Acting Mastery Episode #96 Here (MP3)