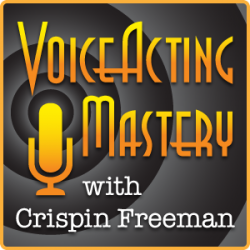 VAM 022 | 5 Essential Steps for Voice Acting Beginners
Welcome to episode 22 of the Voice Acting Mastery podcast with yours truly, Crispin Freeman!
As always, you can listen to the podcast using the player above, or download the mp3 using the link at the bottom of this blog post. The podcast is also available via the iTunes Store online. Just follow this link to view the podcast in iTunes:
http://www.voiceactingmastery.com/podcast
In this episode, I want to talk about 5 Essential Steps any Beginner should take when approaching Voice Acting. I get inquiries from many people who are brand new to the idea of voice acting and would like to pursue it professionally. Often, they would like a clear recipe on how to become a working voice actor. The irony of this, of course, is that there is no one recipe for becoming a voice actor.
While there may not be a linear recipe to follow, there are certain abilities or criteria that I find common among the most successful professional voice actors. These are concrete things you can work on in order to improve the likelihood that you will be able to take advantage of voice acting opportunities. Any beginner, (and even some veterans), will benefit from focusing on these steps. I've narrowed them down to 5 Essentials:
You must become an actor.
You must learn how to use your voice as an instrument.
You must discover your character types.
You must become capable of and comfortable with recording yourself at a professional level.
You must be confident.
I explore each of these topics in depth in the podcast itself. While these essentials may seem obvious, you must truly understand and internalize these ideas if you want to become a successful professional voice actor. A superficial understanding is not enough. I encourage you to listen to the podcast thoroughly!
I hope you enjoy it!
Download Voice Acting Mastery Episode #22 Here (MP3)