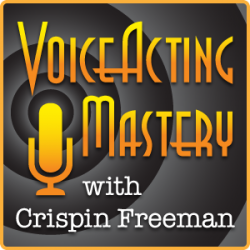 VAM 098 | Q & A Session 18 – How Does Stage Acting Help with Voice Acting & What I Did to Improve My Skills
Welcome to episode 98 of the Voice Acting Mastery podcast with yours truly, Crispin Freeman!
As always, you can listen to the podcast using the player above, or download the mp3 using the link at the bottom of this blog post. The podcast is also available via the iTunes Store online. Just follow this link to view the podcast in iTunes:
http://www.voiceactingmastery.com/podcast
In this episode, I continue answering questions from my podcast audience! For those who may not be as familiar with the podcast, in past episodes, I've given out a phone number where you can call in and leave me a question about voice acting as a voicemail. From time to time, I'll pick the most relevant questions I receive and answer them here on the podcast.
For this round of Q & A, I answer questions from Gatlin from Midway, GA and Dan from Los Angeles, CA.
Gatlin has heard from many voice acting professionals that most voice actors have a background in theater. He'd like to know why theatrical training seems to lend itself to voice acting. He's also currently working in his local community theater and would like to know what he should focus on in order to prepare himself for a career in voice acting.
Dan has a follow up question to my interview with Scott Menville which took place in episodes 84, 85, and 86 of the podcast. In that interview I recounted to Scott that upon my arrival in Los Angeles, I was cast in two very high profile anime shows and was subsequently let go from both of them. Dan would like to know what steps I took after that setback to hone my skills and become more competitive as a voice actor.
I hope you find the answers to their questions useful in your own voice acting endeavors!
If any of my listeners would like to call in with your own thoughts, thank you's or questions, the number is:
323-696-2655.
Please don't forget to include your first name and what city in the world you're calling from. I'm looking forward to hearing from you!
Thanks for listening!
Download Voice Acting Mastery Episode #98 Here (MP3)