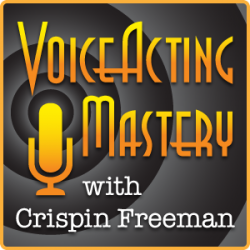 VAM 082 | How to Work Successfully with Agents and Managers
Welcome to episode 82 of the Voice Acting Mastery podcast with yours truly, Crispin Freeman!
As always, you can listen to the podcast using the player above, or download the mp3 using the link at the bottom of this blog post. The podcast is also available via the iTunes Store online. Just follow this link to view the podcast in iTunes:
http://www.voiceactingmastery.com/podcast
In the last episode, I explained the basics of how the casting process works for traditional Hollywood style voice acting productions. I talked about the interaction between actors, their agents, casting directors and the producers of these projects.
However, after releasing the episode, I realized that some members of my audience might not be as familiar with the job descriptions and/or responsibilities of agents, managers and casting directors. Others may be familiar with what these industry professionals do, but may not know the best way to approach or work with them.
I'd like to take the next couple of episodes to clarify how you as a voice actor might interact with these types of industry professionals in the most fruitful way possible.
One of the most important business relationships you will have as a working voice actor is the one you share with your agent, so I want to spend the majority of this episode explaining what an agent is, what they are not, and the best practices for collaborating with them. Even though it is possible, especially in the beginning, for a voice actor to gain a certain level of experience and success without the professional representation that an agent can provide, it's useful even for beginners to learn how actors and agents work together. This way you can be prepared to approach an agent with confidence once you're ready to reach the next level in your career. I'll also explain the difference between agents and managers, a distinction that can be confusing to actors new to the entertainment industry.
Thanks for listening!
Download Voice Acting Mastery Episode #82 Here (MP3)