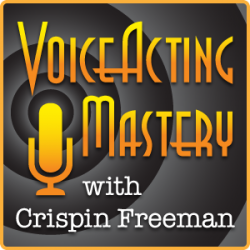 VAM 111 | Interview with Stephanie Sheh, Part 3
Welcome to episode 111 of the Voice Acting Mastery podcast with yours truly, Crispin Freeman!
As always, you can listen to the podcast using the player above, or download the mp3 using the link at the bottom of this blog post. The podcast is also available via the iTunes Store online. Just follow this link to view the podcast in iTunes:
http://www.voiceactingmastery.com/podcast
Welcome to the third and final part of my interview with the talented and amazingly driven voice actress, Stephanie Sheh! You may be familiar with her work from shows like the Legend of Korra, Naruto and Sailor Moon. Stephanie is not only a talented voice actress, but she also has experience as a producer, director and even as a recording engineer! I'm so grateful to have someone with her experience on the podcast to talk with us about what it takes to be successful in the industry!
In our last episode, Stephanie talked about how inspired she was by movies as a child. They made her feel giddy and excited and she wanted to grow up to make stories that would inspire others as well! Her passion for performing drove her to pursue any avenue she could in order to develop and hone her acting craft. She persevered even when her parents initially doubted her ability to succeed as an actress. Her "just do it" attitude was instrumental in giving her the motivation to become a professional performer, especially in the face of uncertainty and hardship.
In our final interview segment together, Stephanie shares with us in detail what she's learned from being a producer and voice director for animation and video game projects. Because she has worked both in front of and behind the microphone, Stephanie has a unique perspective on what actors can do to make themselves appealing to producers and directors. She also talks about some pitfalls to avoid when trying to market yourself as an actor. Listen carefully! Stephanie possesses a wealth of important information!
If you're enjoying the podcast, I would really appreciate it if you could give me a positive review in the iTunes Music Store! Here's how:
Follow this link to the Voice Acting Mastery Podcast in iTunes. Your browser should open up to a page listing the podcast.
Click on the View in iTunes button which looks like this:  in order to view the podcast in iTunes. (NOTE: You must have iTunes installed on your computer for this to work)
Click on "Ratings and Reviews"
Now click on the stars to rate. They look like this:  and click on "Write a Review" to leave your thoughts! It looks like this: 
That's it! Thanks for giving me a positive review on iTunes! It helps other voice actors who are looking for this information find me quickly. I'm really excited about being on iTunes and I'm looking forward to reaching even more people this way!
Thanks for listening!
Download Voice Acting Mastery Episode #111 Here (MP3)