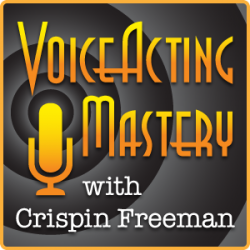 VAM 064 | Q & A Session 10 – Removing Your Accent & Hearing Your True Voice
Welcome to episode 64 of the Voice Acting Mastery podcast with yours truly, Crispin Freeman!
As always, you can listen to the podcast using the player above, or download the mp3 using the link at the bottom of this blog post. The podcast is also available via the iTunes Store online. Just follow this link to view the podcast in iTunes:
http://www.voiceactingmastery.com/podcast
In this episode, I continue answering questions from my podcast audience! For those who may not be as familiar with the podcast, in past episodes, I've given out a phone number where you can call in and leave me a question about voice acting as a voicemail. From time to time, I'll pick the most relevant questions I receive and answer them here on the podcast.
For this round of Q & A, I answer questions from Wallace from Savannah, GA and Jacob from Melbourne, FL.
Wallace is unhappy with his regional accent and would like to know what he can do to get rid of it.
It is true that one of the first things you should become aware of as you begin your voice acting career is how you sound to other people. If you don't become aware of the way you speak, then your artistry will be limited since you will not know what you need to change in order to adapt your voice to different characters and situations.
However, there is nothing inherently wrong with the way someone naturally speaks. Our speech patterns are influenced by the environments in which we grow up. We adopt the regionalisms of the people around us in order to be more socially acceptable and to "fit in".
So rather than thinking you need to eliminate your accent permanently, begin to see it as just one tool in your toolbox, or one costume in your wardrobe. You don't want to invalidate your native accent, you just want to learn to turn it on and off when you need to.
I give Wallace a couple of suggestions on what to do to work on his accent including listening or re-listening to episodes 19, 20 & 21 of the podcast where I interview J.B. Blanc on his expertise and experience in accents. I also give him detailed directions on how to voice match talented actors as a way to become aware of one's habitual speech patterns.
Jacob wants to know why his voice sounds different when recorded on a microphone versus when he is recorded on someone's video camera.
If one is recording oneself on a high quality microphone like the ones I recommend in the Toolbox section of this website, then chances are it is a large diaphragm microphone. Video cameras and smartphones tend to have small diaphragm microphones that are of much lower quality. Also, when recording on a large diaphragm microphone you are often much closer to the mic whereas in a video, the camera person may be many feet away from you.
It is best to evaluate your voice on a large diaphragm microphone, since that is the most common recording situation you will find yourself in as a professional voice actor. However, I also give Jacob some advice on what to avoid when working with a large diaphragm microphone.
I hope you find the answers useful in your own voice acting endeavors!
If any of my listeners would like to call in with your own thoughts, thank you's or questions, the number is:
323-696-2655.
Please don't forget to include your first name and what city in the world you're calling from. I'm looking forward to hearing from you!
Thanks for listening!
Download Voice Acting Mastery Episode #64 Here (MP3)