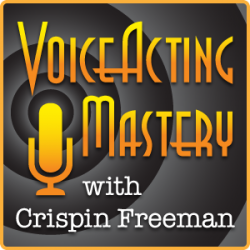 VAM 053 | Q & A Session 07 – Acting Practice – Voice Matching & Fandubs
Welcome to episode 53 of the Voice Acting Mastery podcast with yours truly, Crispin Freeman!
As always, you can listen to the podcast using the player above, or download the mp3 using the link at the bottom of this blog post. The podcast is also available via the iTunes Store online. Just follow this link to view the podcast in iTunes:
http://www.voiceactingmastery.com/podcast
I've been getting so many great questions from my listeners recently, that I thought I would continue answering their questions here on the podcast. For those who don't know, in past episodes, I've given out a phone number where you can call in and leave me a question about voice acting as a voicemail. From time to time, I'll pick the most relevant questions I receive and answer them here on the podcast.
For this round of Q & A, I answer questions from David from Albuquerque, NM and Amanda from Irondale, MO.
David wants to know what options there are for practicing voice acting that don't cost a lot of money. I share with him the advice I give my voice acting students: try voice matching professional voice actors, especially celebrities. Voice matching can help you in a number of different ways:
It can help you expand your vocal range.
It can build up your roster of characters that are accessible to you.
You can get hired to voice match celebrities in video games, animation and commercials.
I not only share with David my advice on how to best practice voice matching, but I also explain the limits of practicing acting on your own and why it's important to get the insight of a professional if you'd like to compete in the professional voice acting world.
Amanda wants to know if working on fandubs is a viable way to improve one's voice acting skills. For those who may not know, a fandub is an amateur voice acting project where aspiring voice actors come together to re-record an animated show that they like with their own vocal performances. Some people do it just for fun, some people use it as a learning experience.
While there are many advantages to working on fandubs when you're first starting out, including developing both your technical and artistic skills, there are also some pitfalls when working on fandubs. I share with Amanda what you need to know to best take advantage of fandub opportunities.
I hope you find the answers useful in your own voice acting endeavors!
As a reminder, the number where you can call in and ask your question is:
323-696-2655.
Please don't forget to include your first name and what city in the world you're calling from. I'm looking forward to hearing from you!
Thanks for listening!
Download Voice Acting Mastery Episode #53 Here (MP3)