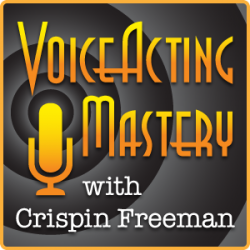 VAM 072 | Q & A Session 12 – Are There Good or Bad Voices & Pursuing Voice Acting for the Right Reasons
Welcome to episode 72 of the Voice Acting Mastery podcast with yours truly, Crispin Freeman!
As always, you can listen to the podcast using the player above, or download the mp3 using the link at the bottom of this blog post. The podcast is also available via the iTunes Store online. Just follow this link to view the podcast in iTunes:
http://www.voiceactingmastery.com/podcast
In this episode, I continue answering questions from my podcast audience! For those who may not be as familiar with the podcast, in past episodes, I've given out a phone number where you can call in and leave me a question about voice acting as a voicemail. From time to time, I'll pick the most relevant questions I receive and answer them here on the podcast.
For this round of Q & A, I answer questions from Ted from Florida and Sam from San Lorenzo, CA.
Ted wants to know if there is such a thing as a good or a bad voice for voice acting.
His question is one that I get asked quite often. Let me answer it as concisely as possible.
No, I do not believe there are good and bad voices. However, there are good and bad actors. Also, some people are more or less good at identifying what type of voice over work may suit their voice the best. Developing competent voice acting skills as well as the ability to cast yourself appropriately are far more important than having a certain type of voice.
I explain to Ted in more detail what it takes to know how and when to use your voice so you can work consistently as a voice actor.
Sam is excited about pursuing a voice acting career, but wants to know if he's doing it for the right reasons.
Sam has been told by friends and acquaintances that his voice is distinctive and that maybe he should pursue voice acting. This has made Sam excited about the possibility of starting his own voice acting business.
However, like most people, Sam also has doubts about the feasibility of pursuing a voice acting career. Unfortunately, a quote that I like to share with aspiring voice actors has added to his confusion. The quote is originally from the great acting teacher Stanislavski, but I modify it slightly from the original. My version of it goes like this: "I believe it is important to love the art in yourself more than yourself in the art."
Sam is worried that he may be pursuing voice acting for the wrong reasons. I'm very happy to explain in more detail what I mean by that quote and to reassure him that it was never my intention to discourage anyone from pursuing their inspiration.
I hope you find the answers useful in your own voice acting endeavors!
If any of my listeners would like to call in with your own thoughts, thank you's or questions, the number is:
323-696-2655.
Please don't forget to include your first name and what city in the world you're calling from. I'm looking forward to hearing from you!
Thanks for listening!
Download Voice Acting Mastery Episode #72 Here (MP3)