My Recording Gear Recommendations
Here is my short list for all the best gear, information and resources that I use as a voice actor. These are my recommendations based on years of research, trial and error and in the field experience.
Recording Software
For Mac or PC:
You can use any audio recording software you are comfortable with, whether that's Apple's Garage Band, Adobe's Audition, Avid's ProTools or anything else. Each have different plug-ins and audio controls, but all of them have equal sound quality when recording since they are all simply manipulating digital audio data that has been imported into your computer via USB. I can recommend the free and cross-platform recording software Audacity.
For iPad:
I recommend either the free WavePad App, Apple's GarageBand or Twisted Wave App.
Recording Hardware
For Beginners:
If you're just starting out, the simplest way to get professional quality sound is to use a USB microphone. Unfortunately, not all USB microphones are created equal. Most are designed for podcasting and are not suitable for voice acting. Here are my recommendations.
I also advise purchasing a Pop Filter (Buy on Amazon
) to protect the sensitive diaphragm of the microphone and to avoid wind noises.
(Prices below are approximate).
Blue Yeti – $100 (Buy on Amazon
)
I'm not the biggest fan of Blue microphones, but the Yeti is a contender for a good starter microphone. The multiple polar patterns are not really useful for voice acting, but the direct headphone monitoring jack is a nice touch to avoid any latency or "echo" when recording yourself into the computer. Just beware that the buttons and knobs do feel cheap and poorly made.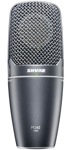 Shure PG42 USB - $250 (Buy on Amazon
)
Also Required: A Weighted Microphone Stand – $20 (Buy on Amazon
)
Shure makes some of the most well recognized microphones in the world. The PG series is the entry level version of their more upscale KSM series. This USB version of the PG42 qualifies as a professional sounding microphone that can double as a travel microphone when you upgrade your home studio later.
For Intermediates and Pros:
When you're ready to take your recording to the next level and be truly competitive in the voice over marketplace, you'll need to use an industry standard microphone. Luckily, there are only a couple. All of them will require some sort of audio interface to take their analog microphone signal, boost it and then convert it into digital audio for your computer over USB.
*To use any of these industry standard microphones, you will need a USB audio interface that has an XLR type input and supplies phantom power. The following interfaces satisfy those requirements.*
Here are the audio interfaces I recommend. (Prices below are approximate.)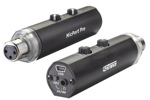 CEntrance MicPort Pro – $150 (Buy on Amazon
)
This is absolutely the simplest way to connect your microphone to your computer. You connect your microphone via XLR cable to the MicPort Pro and then use the included USB cable to connect the MicPort Pro to your computer. Then fire up your audio recording software of choice and you're good to go. The MicPort Pro has the least amount of noise of any XLR to USB adapter I've heard which is important for voice over!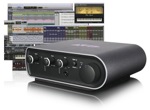 ProTools MBox Mini – $500 (Buy on Amazon
)
I've used the MBox interfaces for years. This is the third generation of the MBox in its "mini" version. While not cheap, this interface does come with the industry standard software, ProTools. Be warned! ProTools is not for the faint of heart! This is definitely a professional level interface!
Here are the industry standard microphones I recommend.
*Each microphone below will also require:*
A Weighted Microphone Stand (Buy on Amazon
)
 to hold your microphone.
An XLR Cable (Buy on Amazon
) to connect your microphone to your interface of choice.
A Pop Filter (Buy on Amazon
)
 to protect the sensitive diaphragm of the microphone.
(Prices below are approximate.)
AKG 214 – $400 (Buy on Amazon
)
AKG 214 with Pop Filter and XLR Cable – $440 (Buy on Amazon
)
The AKG 414 is a workhorse microphone and has been used for voice over for years. In fact my demos were all recorded on an AKG 414. The 214 is the stripped down, less expensive version of the 414, but it retains the same capsule as its larger brother. The bottom line: you get the same sound as a 414 while spending less than half as much.
Sennheiser MKH 416 – $1000 (Buy on Amazon
)
The Sennheiser 416 is the film industry standard for recording dialogue of actors on a film set. It's a shotgun microphone that is designed to pick up sounds at a distance. Voice actors realized that when used in close proximity, the sound of the 416 was very punchy and allowed a voice over to cut through loud music and sound effects. Because of this, the 416 is used extensively in trailers and in promo work. However, it is rarely used in animation work as its biting sound can seem harsh over long periods of time.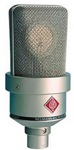 Neumann TLM 103 – $1100 (Buy on Amazon
)
Highly Recommended: EA1 Microphone Shockmount – $260 (Buy on Amazon
)
Neumann microphones are the most commonly used microphones in voice over. Almost every studio I go into uses Neumann microphones. The standard is the U87, but it costs over $3000. The TLM 103 is the entry level version. It has the same capsule as the U87 but simplifies the circuitry to create a microphone that captures the essence of the Neumann sound at a more reasonable price.

Travel Microphones:
All of the industry standard  microphones I've listed above are condenser microphones. Those are ideal for recording in a controlled environment. However, when traveling, it is advisable to use a dynamic microphone for it's durability and rejection of background noise. Just make sure you have enough power in your preamp to amplify the signal. Dynamic microphones also do not require Phantom Power.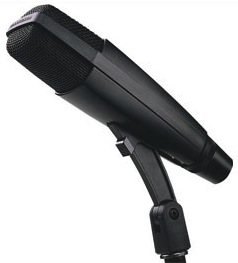 Sennheiser MD421 – $380 (Buy on Amazon
)
A workhorse of a microphone, the MD 421 has been used in broadcast situations for years as well as for recording drums because of it's durability. I first saw it used to record the voices for Disney's animated series
Gargoyles
. I use it now as my travel microphone for when I have to record auditions away from home. It also has an adjustable bass roll off switch that allows you to dial in just the amount of bass you need. Be warned! It does require a lot of preamp gain to get a decent level. Not for use with weaker preamps.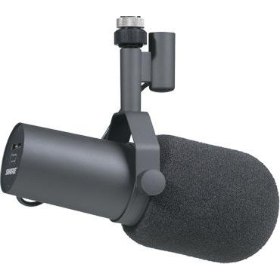 Shure SM7B – $350 (Buy on Amazon
)
The SM7B has been used extensively in radio and broadcast environments. When I did a promotional voice over for KCRW, my local NPR station, they had me record on a SM7. It also is quite flexible because of its switches on the back which allow you to tailor the sound using either a bass roll off setting or a mid-range presence boost setting or both! It's a little bulkier than some dynamics, but its quality and durability have been tested for decades.
iPad Portable Recording Solution:
Here's the solution I use when I want to be able to record professional quality audio on my iPad: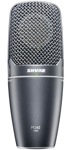 +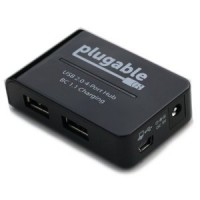 Pluggable's Mini Powered USB Hub
+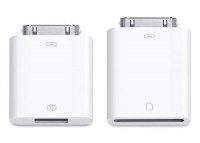 Apple's Camera Connection Kit for Dock connectors
or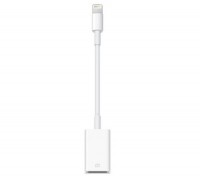 Apple's Lightning to USB Camera adapter
Here's the formula, I plug the PG-42USB into Pluggable's Powered USB Hub, connect the hub to either the Camera Connection Kit for older iPads or the Lightning to USB Camera adapter for newer iPads and then plug into the iPad.
You can then use any of these 3 recording apps: WavePad, GarageBand or TwistedWave.
The Big Kahuna: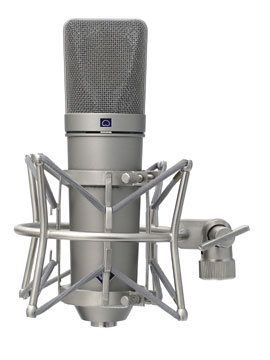 Neumann U87
Best Bought as the Set Z for $3400 – (
Buy on Amazon)
If you really want to have the ultimate voice over microphone, if you want to use exactly what the best studios in the world use, you need go no further than the Neumann U87. Its richness and silky smooth tone have made it the most common microphone in voice over. I record on this microphone more often than any other, no matter which studio in LA I happen to visit. I fell in love with it so much, I got one for myself to use in my own home studio. Every episode of the podcast is recorded on this mic. If money is no object and you want to use a world class microphone, you have now arrived. Just make sure to get the Set Z package since it includes the shockmount for the microphone which is an absolute necessity.
My Studio Equipment:
For those who are curious, this is the actual rig I use at home:
Neumann U87
ProTools MBox Mini 2
AKG K 702 Headphones
Genelec 1029 Studio Monitors
Genelec 1091 Subwoofer
When traveling I use a dynamic microphone:
Sennheiser MD421
Happy Recording!