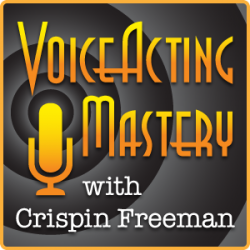 VAM 067 | How to Become a Voice Actor
Welcome to episode 67 of the Voice Acting Mastery podcast with yours truly, Crispin Freeman!
As always, you can listen to the podcast using the player above, or download the mp3 using the link at the bottom of this blog post. The podcast is also available via the iTunes Store online. Just follow this link to view the podcast in iTunes:
http://www.voiceactingmastery.com/podcast
In this episode I want to explain to you how to become a voice actor. Now, you might think it ironic that it's taken 67 episodes of this podcast for me to finally address this topic directly. The fact of the matter is that over the last 66 episodes I've been doing my best to explain to you what it takes to become a professional voice actor. I've shared acting techniques, mindset tips, technical information and extensive interviews with industry insiders
However, even with all those episodes and all that information available, I still get asked the same question by new and aspiring actors: What do I need to do to become a voice actor? My usual response is to tell them to listen to every episode of my podcast from the beginning. Unfortunately, that doesn't seem to satisfy some of them. While they do realize the podcast contains useful information, what they really want to know is if there is some "secret" or magic formula for becoming a voice actor. Surely there's some checklist or a recipe, some guaranteed course of action one can take in order to become a voice actor, isn't there?
Well, it turns out, there is. There is a simple, straightforward solution to becoming a voice actor. It's not a checklist or a recipe. It's a one-step process and I'm going to share it with you in this episode. But prepare yourself. It's probably not what you're expecting!
Download Voice Acting Mastery Episode #67 Here (MP3)