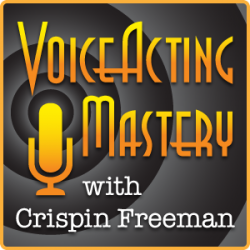 VAM 054 | Interview with Monica Rial, Part 1
Welcome to episode 54 of the Voice Acting Mastery podcast with yours truly, Crispin Freeman!
As always, you can listen to the podcast using the player above, or download the mp3 using the link at the bottom of this blog post. The podcast is also available via the iTunes Store online. Just follow this link to view the podcast in iTunes:
http://www.voiceactingmastery.com/podcast
In this episode, I'm pleased to be interviewing my good friend and amazingly accomplished voice actress Monica Rial! Monica has been in so many anime series, it's impossible to name all of them here, from Dragon Ball to Excel Saga, from Noir to Soul Eater and everything in between. Monica has spent the majority of her career working in Texas and I was eager to get her on the podcast so she could share her knowledge of the Texas voice acting marketplace with those listeners who may be interested in pursuing voice acting in that area.
As of the recording of this podcast, Funimation is currently the largest distributer of anime in the U.S. and their studios are based in Dallas. ADV films, which helped fuel the anime market in the late 90's and early 2000's, is based in Houston and have now remade themselves into Sentai Filmworks. Suffice it to say, there's a lot of anime that gets dubbed in Texas! In addition, more and more video games are now being recorded in Texas including such titles as Orcs Must Die!, Guitar Hero: World Tour and Halo Wars.
Monica will not only be able to give to you her insight on what it's like to work as a voice actor in Texas but she'll also share what it takes to succeed!
Download Voice Acting Mastery Episode #54 Here (MP3)