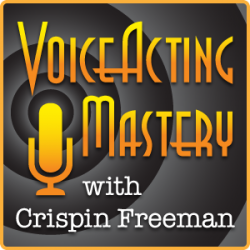 VAM 014 | Interview with Jack Angel, Part 2
Welcome to episode 14 of the Voice Acting Mastery podcast with yours truly, Crispin Freeman!
As always, you can listen to the podcast using the player above, or download the mp3 using the link at the bottom of this blog post. The podcast is also available via the iTunes Store online. Just follow this link to view the podcast in iTunes:
http://www.voiceactingmastery.com/podcast
In this episode, I continue my very special interview with one of the great talents in the world of voice acting, Jack Angel.
As we heard in the last episode, Jack's journey towards the world of voice over has been very unconventional! He started out wanting to be a cartoonist. When that didn't pan out, he joined the army where he discovered his love of performing. After returning from the Korean war, he became a radio DJ.
In this episode, Jack shares with us how he made the transition from radio DJ to voice actor in cartoons. It was a sort of homecoming for him. He had always wanted to work on animation, but he thought his contribution would be as an illustrator. Little did he know that he would be giving voice to some of the best loved characters in cartoons!
Jack was actually fired from his job in radio, but that didn't deter him! After being let go from the radio station, Jack redoubled his efforts and broke in to the world of voice acting for cartoons. What's even more impressive is the mindset that he developed when facing the challenges that arise when pursuing a voice over career. The attitude he has towards voice acting is one of the most insightful and uplifting I've ever heard. I hope you enjoy it!
If you have any questions, please post your question as a comment to this blog post. Chances are, someone else has a similar question. By posting your question here on the blog, I get to communicate with all of you at once.
Thanks for listening!
Download Voice Acting Mastery Episode #14 Here (MP3)