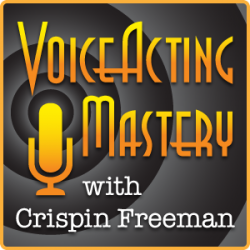 VAM 036 | How to Play Villains in Voice Acting
Welcome to episode 36 of the Voice Acting Mastery podcast with yours truly, Crispin Freeman!
As always, you can listen to the podcast using the player above, or download the mp3 using the link at the bottom of this blog post. The podcast is also available via the iTunes Store online. Just follow this link to view the podcast in iTunes:
http://www.voiceactingmastery.com/podcast
This episode of Voice Acting Mastery just happens to fall on Halloween, 2012. So in honor of my favorite holiday, I thought I'd take the opportunity to share my thoughts on how to play villains in voice acting effectively. The villain is one of the most popular types of characters that beginning voice actors tend to want to play, and I often get asked how best to portray larger than life villainous characters or psychotic out of control antagonists.
I've played a number of villains, such as the dark and powerful Duskmon in Digimon, the impetuous and unstable Electro in the Spectacular Spider-Man, the brooding and methodical Itachi in Naruto, and the maniacal and demonic Alucard in Hellsing. While these villains are definitely fun to play, they can also be challenging, because it takes a certain understanding of their mindset in order to portray them with depth and believability and to avoid sounding flat and one-sided in your performance.
There are 3 common misconceptions about Villains:
Misconception #1: You need to have a deep or powerful voice in order to play a villain.
Misconception #2: Villains are easier to play because they're so melodramatic.
Misconception #3: Villains do what they do because they're just evil for evil's sake.
I disprove these and instead give you 3 tools for creating believable villains:
Technique #1: Understand the villain's wound.
Technique #2: Empathize with the villain, don't judge them.
Technique #3: Less is always more when portraying truly diabolical villains.
I go into great detail on each of these topics. I hope you enjoy my special Halloween treat, an exploration of the psychology of the villain!
Thanks for listening!
Download Voice Acting Mastery Episode #36 Here (MP3)