Posted by
Crispin Freeman
on Nov 2, 2016 in
Acting
,
Agents
,
Animation
,
Anime
,
Booth Etiquette
,
Casting
,
Commercials
,
Field Report Podcast
,
Improv
,
Interviews
,
Microphone Technique
,
Mindset
,
Video Games
,
Vocal Health
|
2 comments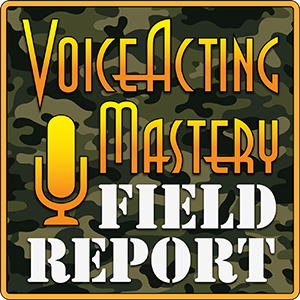 VAMFR 014 | Interview with Tony Oliver, Part 3
Welcome to episode 14 of the Voice Acting Mastery: Field Report podcast!
In this episode, our correspondent, Tom Bauer concludes his interview one of his personal voice over mentors: Tony Oliver.
Tom first met Tony while taking class with him in November of 2012 and Tom has had the good pleasure of working with Tony since as a voice actor. Tony's voice over roles in anime include Rick Hunter in Robotech and Lupin in the Lupin the Third TV series. Tony also worked for many years as a writer and producer on the famous Mighty Morphin' Power Rangers television series for Saban Entertainment. He is also a talented director and teacher, directing such popular anime titles as Gurren Lagann and Hunter X Hunter.
In part 2 of this interview, we learned about Tony's personal methodology when directing his actors and teaching his students. He stressed the importance of focusing on a character's feelings and emotions in order to deliver a more believable and natural performance. Tony also gave advice on how to handle rejection and the importance of staying positive and finding joy in your craft to sustain your momentum and maintain your stamina while pursuing your voice acting career.
In this final episode, Tom asks Tony about the differences between directing veteran and younger voice actors. Tony also talks at length about how he became a teacher and how he helps his students 'get out of their head' when performing in the booth.
If you are interested in taking class with Tony, make sure to visit the Workshops Page of the Adventures in Voice Acting Website.
The VAM Field Report will be released on the 1st Wednesday of every month so stay on the look out for it!
Download VAM Field Report Episode #14 Here (MP3)