Posted by
Crispin Freeman
on Apr 6, 2016 in
Accents & Dialects
,
Acting
,
Agents
,
Animation
,
Anime
,
Booth Etiquette
,
Casting
,
Commercials
,
Field Report Podcast
,
Improv
,
Interviews
,
Mindset
,
Video Games
|
4 comments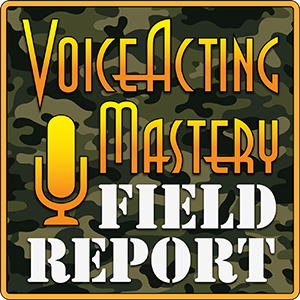 VAMFR 007 | Interview with Erika Harlacher, Part 1
Welcome to episode 7 of the Voice Acting Mastery: Field Report podcast!
In this episode our correspondent, Tom Bauer, begins his interview with the prolific and mult-talented Erika Harlacher.
Since this is Tom's first episode for the Voice Acting Mastery: Field Report, he wanted to interview a very gifted voice actor who is just starting her voice acting journey and making leaps and bounds in her career. Erika has been featured in a number of Anime titles, including roles such as Princess Asseylum Vers Allusia in Aldnoah.Zero and Ami Kawashima in Toradora! She's also performed in video games, playing characters like Kyoko Kirigiri in Dangan Ronpa: Trigger Happy Havoc and Sadira in Killer Instinct.
In this episode, Erika talks about how she embraced the creative side of her personality and the steps she took to break into voice acting. Tom and Erika discuss at length the struggles she continues to face as an artist as well the importance she places on finding a support system to help her stay true to herself and pursue her dreams. We're very grateful to Erika for sitting down with Tom and sharing her experience as an up and coming voice actor. As you listen to their interview, I think you'll agree that her positivity and energy are infectious!
The VAM Field Report will be released on the 1st Wednesday of every month so stay on the look out for it!
Download VAM Field Report Episode #7 Here (MP3)