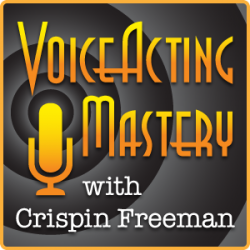 VAM 085 | Interview with Scott Menville, Part 2
Welcome to episode 85 of the Voice Acting Mastery podcast with yours truly, Crispin Freeman!
As always, you can listen to the podcast using the player above, or download the mp3 using the link at the bottom of this blog post. The podcast is also available via the iTunes Store online. Just follow this link to view the podcast in iTunes:
http://www.voiceactingmastery.com/podcast
In this episode I'm excited to present to you the second part of my interview with the wonderfully talented Scott Menville.
Scott is probably best known for his portrayal of Robin in the animated series Teen Titans and Teen Titans Go!, but Scott has been working both as a voice actor and an on-camera actor since he was 11 years old! Scott brings a wealth of experience to our discussion as well as an amazingly positive mindset, and I'm thrilled to have him on the podcast.
In the previous episode, Scott and I both emphasized how important it is to have passion for the career you decide to pursue. While this is true in almost every field, it is especially true in the world of voice acting where there are so many people who are deeply committed to becoming professionally competitive as voice actors.
In this episode, we explore exactly what steps Scott took once he made the decision to pursue voice acting, not just as a hobby, but as his vocation. Here's a hint: improvisational acting training played a vital role in Scott's development as an artist. Improv still informs Scott's performances today, as he is often called upon to use his improvisational skills during recording sessions! Hearing about his experiences, and the experience of other actors using improv to explore new possibilities in the booth, is both enlightening and inspiring! I'm sure you'll enjoy it!
Download Voice Acting Mastery Episode #85 Here (MP3)