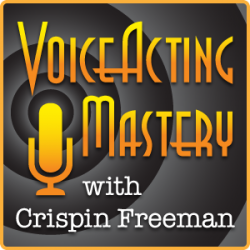 VAM 057 | Q & A Session 08 – Sound Proofing Your Booth and Dealing with Rude Directors
Welcome to episode 57 of the Voice Acting Mastery podcast with yours truly, Crispin Freeman!
As always, you can listen to the podcast using the player above, or download the mp3 using the link at the bottom of this blog post. The podcast is also available via the iTunes Store online. Just follow this link to view the podcast in iTunes:
http://www.voiceactingmastery.com/podcast
It's time for another round of Questions and Answers from my podcast audience! For those who may not be as familiar with the podcast, in past episodes, I've given out a phone number where you can call in and leave me a question about voice acting as a voicemail. From time to time, I'll pick the most relevant questions I receive and answer them here on the podcast.
For this round of Q & A, I answer questions from Ben from Washington D.C. and Leonard from Calgary, Alberta.
Ben is recording a number of projects from home and he has discovered that when he raises his voice or screams, he ends up getting a lot of unwanted echoes or reverb on his recording. He wants to know what he can do to improve the acoustics of his recording space without spending a lot of money. There are two aspects to acoustical treatment:
Isolation

Absorption
Isolation can be very expensive, but sound absorption is far more achievable. One of the best ways to increase sound absorption in your booth is to use acoustical foam. The foremost manufacturer of acoustical foam is a company called Auralex. You can visit their website for more information including tutorials on how to treat your recording space.
If acoustical foam is outside your budget, some of my students have recommended using a Porta-Booth solution which is marketed by the voice over artist Harlan Hogan.
I discuss 2 other possible solutions in the episode as well that are even less expensive.
Leonard wants to know what to do when you encounter a rude or demeaning voice director. While most voice directors are incredibly professional and respectful, you may run into voice directors who can be quite obnoxious. I share with Leonard my techniques for keeping my cool in the booth when trying to work under ridiculous or even hostile circumstances!
I hope you find the answers useful in your own voice acting endeavors!
As a reminder, the number where you can call in and ask your question is:
323-696-2655.
Please don't forget to include your first name and what city in the world you're calling from. I'm looking forward to hearing from you!
Thanks for listening!
Download Voice Acting Mastery Episode #57 Here (MP3)