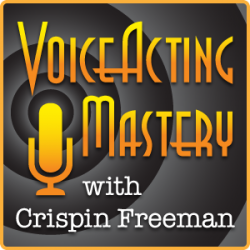 VAM 090 | The Myth of Talent: Can Anyone Be a Voice Actor?
Welcome to episode 90 of the Voice Acting Mastery podcast with yours truly, Crispin Freeman!
As always, you can listen to the podcast using the player above, or download the mp3 using the link at the bottom of this blog post. The podcast is also available via the iTunes Store online. Just follow this link to view the podcast in iTunes:
http://www.voiceactingmastery.com/podcast
In this episode I'd like to address a common misconception that I find many people have about the nature of acting.
Sometimes I feel like acting is one of the most misunderstood of the performing arts, mostly because it seems so invisible when someone is doing it well. A truly believable acting performance can seem so transparent and effortless that it feels as though nothing is really going on and the actor is just naturally self-expressing. The illusion of transparency applies doubly to voice acting, where even the actor giving the performance is unseen by the audience.
This invisibility can lead many listeners to infer that either the actor giving the performance is just naturally talented, or that voice acting is something that anyone can do without much effort. To some it seems like the actor is doing something unattainably magical and this means that acting must require some sort of mysterious inborn ability. To others it sounds like the actor is just talking, and since talking to other people is something we all tend to do in our everyday lives, how artistically demanding could voice acting truly be? So which is correct?
Does it take natural talent to become a voice actor, or can anyone just step up to the mic and talk their way to fame and fortune?
Let's find out!
Download Voice Acting Mastery Episode #90 Here (MP3)