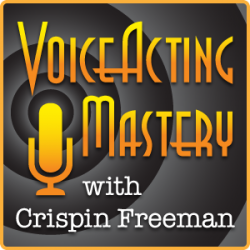 VAM 088 | Q & A Session 17 – Reducing Sibilance & Practicing ADR and Anime
Welcome to episode 88 of the Voice Acting Mastery podcast with yours truly, Crispin Freeman!
As always, you can listen to the podcast using the player above, or download the mp3 using the link at the bottom of this blog post. The podcast is also available via the iTunes Store online. Just follow this link to view the podcast in iTunes:
http://www.voiceactingmastery.com/podcast
In this episode, I continue answering questions from my podcast audience! For those who may not be as familiar with the podcast, in past episodes, I've given out a phone number where you can call in and leave me a question about voice acting as a voicemail. From time to time, I'll pick the most relevant questions I receive and answer them here on the podcast.
For this round of Q & A, I answer questions from Yvonne from Oakland, CA and Emily from Tampa, FL.
Yvonne works in the audiobook industry. He's been having trouble with his recordings being too sibilant.
First, let me define sibilance for those of my listeners who may not be familiar with the term. Sibilance is the sound one makes in the English language when one makes an "s" sound. In the world of voice over, sibilance usually refers to someone whose "s" sounds are too pronounced or hissy.
I give Yvonne some tips on how to reduce the sibilance in his recordings, both in terms what he might need to change in his performance as well as numerous technical solutions to the problem.

Emily is aware that in order to work as a voice actor in anime, a performer needs to know how to match the lip flap of characters on the screen. She'd like to know how to practice matching lip flap on her own.
Matching the lip flap of characters on the screen is a challenging skill to develop.
The practice of dubbing your voice to preexisting video footage is known as Automatic Dialogue Replacement or ADR. Not only is ADR work challenging for an actor, but because the technical requirements to set up an ADR recording session are complicated, it's challenging for a recording engineer as well.
While running your own ADR setup is possible it requires manipulation of audio and video on a professional level. I share some of the software one can use to run ADR sessions on your own, but learning how to use such software effectively still requires a significant investment of time and energy.
Emily's time might be better served by taking classes like my Anime Voice Acting Workshops where all the technical challenges are taken care of.
I hope you find the answers useful in your own voice acting endeavors!
If any of my listeners would like to call in with your own thoughts, thank you's or questions, the number is:
323-696-2655.
Please don't forget to include your first name and what city in the world you're calling from. I'm looking forward to hearing from you!
Thanks for listening!
Download Voice Acting Mastery Episode #88 Here (MP3)