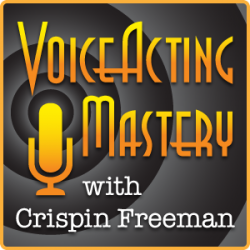 VAM 133 | Interview with Eliza Jane Schneider, Part 3
Welcome to episode 133 of the Voice Acting Mastery podcast with yours truly, Crispin Freeman!
As always, you can listen to the podcast using the player above, or download the mp3 using the link at the bottom of this blog post. The podcast is also available via the iTunes Store online. Just follow this link to view the podcast in iTunes:
http://www.voiceactingmastery.com/podcast
Welcome to the second part of my interview with voice actor and dialect expert, Eliza Jane Schneider! You may be familiar with her work voicing almost all of the female characters on the animated series South Park in the years between 1999 and 2003. Eliza and I have also been in a number of projects together including Diablo III where I played the Male Wizard and she played the Female Necromancer, and also the Pirates of the Caribbean video games where I voice match Orlando Bloom to play Will Turner while she voice matches Keira Knightly to play Elizabeth Swann.
In addition to her many acting accomplishments, Eliza is incredibly dedicated to the study and mastery of English language dialects. She is a highly sought after accent coach and I'm very happy to have her on the podcast to share her insight and expertise with all my listeners!
In the previous episode, Eliza explained the unique techniques she has developed to master dialects and accents. As we wrap up our time together, Eliza talks about how to approach mastering the emotional component of performing with an accent. She also shares her tongue placement system to help dial in the specific sound of certain vowel substitutions. We end the interview with Eliza's advice to aspiring voice actors, which includes the reality of how little time voice over performers actually have to give a believable and compelling performance once they're in the booth. It's a sobering but honest take on the challenges of working in the voice over industry. I think you'll find Eliza's candor and expertise very helpful, so let's get started!
If you would like to learn more about Eliza's dialect training, please visit her website at:
Download Voice Acting Mastery Episode #133 Here (MP3)