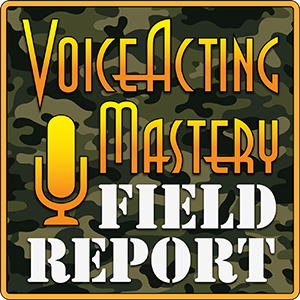 VAMFR 024 | Maintaining Good Psychological Health as a Voice Actor, Part 1
Welcome to episode 24 of the Voice Acting Mastery: Field Report podcast!
You can listen to the podcast using the player above, or download the mp3 using the link at the bottom of this blog post. The podcast is also available via the iTunes Store online. Just follow this link to view the podcast in iTunes:
http://www.vamfieldreport.com/podcast
Welcome to the first part of a special report on maintaining good psychological health as a voice actor by our special correspondent, Maureen Price!
Maureen has been eager to dive into this topic ever since she joined the Field Report and she's very excited to share her findings with all of you! When it comes to building a successful voice acting career, developing confidence, which includes learning to deal with rejection, is just as important as sharpening our acting skills or learning solid business practices. When Maureen started interviewing industry professionals about this subject, she was very curious to hear how they dealt with the emotional challenges of being a voice actor and how their approaches to maintaining a healthy mindset evolved over the course of their careers. Maureen's tactics and thought processes for handling emotional stress have certainly changed since her earliest experiences as a child stage actor! And she's grateful for that!
In part one of her report, Maureen will be exploring a subject that greatly affects us all as voice actors over the entire arc of our careers. It's also a topic that she rarely hears addressed in interviews but is of great importance given how far reaching it is. She's referring to the dreaded "R" word. Rejection. More specifically Maureen wants to explore how to handle rejection in psychologically healthy and productive ways. Since rejection is one of the most common and inevitable experiences we encounter in the voice over world, it's crucial to develop a skill set to cope with it well. If we aren't able to handle rejection effectively, we're all going to have a rough go of things.
To help her explore these sometimes difficult and loaded topics, Maureen spoke with four wonderfully talented voice actors. Firstly, she sat down with Keith Silverstein, an industry veteran whose work includes Torbjörn in Overwatch, Hisoka in HunterxHunter, and Hawk Moth in Miraculous: Tales of Ladybug and Cat Noir amongst many, many more. She then spoke with Laura Post, voice actor and now voice director for the anime series Little Witch Academia. Laura's voice acting work includes Big Barda in Justice League Action, Ragyō in Kill la Kill, Ahri in League of Legends, and Nozomi Tojo in Love Live! School Idol Project. Maureen also spoke with Ray Chase. Ray voices Prince Noctis in Final Fantasy XV, Master of Masters in Kingdom Hearts 2.8 and Puri-puri Prisoner in One Punch Man. Finally, she sat down with Valerie Arem. Valerie is a voice actor, voice director, and educator. Her directing work includes Persona 4 and Persona 5. She voices Francine in The Walking Dead video game, Naoto Shirogane in Persona 4, and Kyra Mosley in Call of Duty: Ghosts. Valerie and her husband Keith Arem run PCB Productions, a studio in Los Angeles specializing in video game recording. They also teach workshops that focus on voice acting for a variety of video game genres. Maureen was especially interested to talk to Valerie given her wealth of experience as an actor, director, casting director, and educator.
Maureen would like to thank all of her fantastically talented guests for being so generous with their time and for their willingness to discuss these topics with honesty and vulnerability. It meant a great deal to her and she hopes that their words over the course of this series resonate and inspire all of us to continue to develop healthy approaches to the psychological challenges that come with the work we do.
The VAM Field Report will be released on the 1st Wednesday of every month so stay on the look out for it!
Download VAM Field Report Episode #24 Here (MP3)