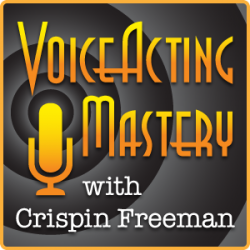 VAM 095 | Interview with Phil LaMarr, Part 3
Welcome to episode 95 of the Voice Acting Mastery podcast with yours truly, Crispin Freeman!
As always, you can listen to the podcast using the player above, or download the mp3 using the link at the bottom of this blog post. The podcast is also available via the iTunes Store online. Just follow this link to view the podcast in iTunes:
http://www.voiceactingmastery.com/podcast
This is the third part of my interview with the amazing Phil LaMarr.
Phil has played major roles in such animated shows as Futurama, Justice League, Star Wars: Clone Wars and Samurai Jack.
In the last episode, Phil and I discussed how his passion for improvisational acting helped shape the trajectory of his early acting career. We also discussed how the difficulties he faced during that time helped him face and eventually let go of the judgements that were holding back his progress towards becoming a professional actor.
In this episode I ask Phil what inspired him to become an actor in the first place. This is a very important question to ask, especially of one's self. Often people have a vague notion that they'd like to try acting because it looks like fun, or maybe they're interested in getting attention or in becoming famous. However, pursuing acting as a career can be a very challenging road to travel, and during times of adversity, one's conviction can really be tested. I have found that when the going gets tough, when the hardships increase, when it's not clear what can help you continue on in the face of difficulties or discouragement, it is very important to have solid reasons for what you are doing so you can remind yourself why acting is so important to you.
In this section of our interview, Phil is generous enough to share with us the single, fascinating experience he had which drove him to pursue an acting career. I think you'll find that hearing what inspired Phil to pursue acting will help you discover your own inspiration as well.
Download Voice Acting Mastery Episode #95 Here (MP3)