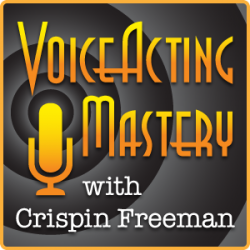 VAM 030 | How to Think and Act Like a Professional
Welcome to episode 30 of the Voice Acting Mastery podcast with yours truly, Crispin Freeman!
As always, you can listen to the podcast using the player above, or download the mp3 using the link at the bottom of this blog post. The podcast is also available via the iTunes Store online. Just follow this link to view the podcast in iTunes:
http://www.voiceactingmastery.com/podcast
In this episode I wanted to talk about what it means to be professional when you go into a studio to record.
As the cost of recording equipment has dropped, more and more people have decided to enter the voice acting field by creating their own home studio. While this is a wonderful convenience, it does mean that voice actors spend less time going into studio recording booths to audition and perform.
For some who are just starting out, you may not have had as much experience working at a professional studio. You may find the idea of walking into a room with producers, directors and an audio engineer intimidating. I want to help alleviate your fear by giving you some basic tips on how to behave when you visit a professional studio.
More importantly, I want to share with you the mindset you must have in order to act like a professional. Even as a seasoned veteran, I find it helpful to remind myself of this mindset before I walk into the studio to record. It raises my confidence level and puts me more at ease, which then improves the quality of my performances.
In this episode, I'll focus on and explain the professional mindset, which is the foundation for your success. In the next episode, I'll share with you some helpful in-studio tips that will improve your recording experience and enhance the impression you make on other industry professionals.
I hope you find it useful!
Download Voice Acting Mastery Episode #30 Here (MP3)