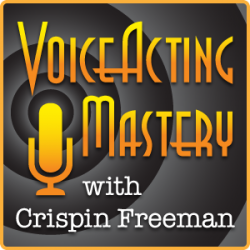 VAM 102 | Interview with Richard Horvitz, Part 2
Welcome to episode 102 of the Voice Acting Mastery podcast with yours truly, Crispin Freeman!
As always, you can listen to the podcast using the player above, or download the mp3 using the link at the bottom of this blog post. The podcast is also available via the iTunes Store online. Just follow this link to view the podcast in iTunes:
http://www.voiceactingmastery.com/podcast
Welcome to the second part of my interview with my personal voice acting mentor, the amazing Richard Horvitz!
Richard has worked on many famous animated shows including Angry Beavers, Invader Zim and the Grim Adventures of Billy and Mandy.
Richard is also a teacher of voice acting and offers both classes and private coaching through his website at RichardHorvitz.com
In the first part of our interview, Richard talked extensively about the importance of playing pretend when it comes to acting. He gave numerous examples of how we sometimes get in our own way when trying to portray a character believably. His examples and exercises were incredibly insightful and practical!
In this episode, Richard shares with us his 5 step process on how to play pretend more fully. Not only are these 5 steps what he uses in his own acting, but they also form the backbone of what he teaches his students as well. Afterwards, Richard shares with us some of the challenges he faced early in his career. It seems that almost every actor has experienced what one could call the "dark night of the soul". It's that time in your life where everything seems bleak and hopeless, even though you're doing your best to pursue a successful career. I'm very grateful to Richard for sharing with us his own struggles and how he overcame them. I think you'll find his journey very inspiring.
If you are interested in taking class or being coached by Richard, please check out the classes section of Richard's website!
Download Voice Acting Mastery Episode #102 Here (MP3)