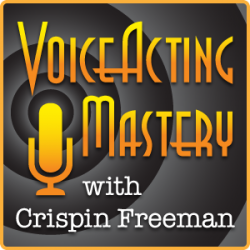 VAM 117 | Interview with America Young, Part 1
Welcome to episode 117 of the Voice Acting Mastery podcast with yours truly, Crispin Freeman!
As always, you can listen to the podcast using the player above, or download the mp3 using the link at the bottom of this blog post. The podcast is also available via the iTunes Store online. Just follow this link to view the podcast in iTunes:
http://www.voiceactingmastery.com/podcast
Welcome to the first part of my interview with a woman who seems to have so many different abilities that it's difficult to know quite how to categorize her! America Young has worked as a voice actress, an on-camera actress, a commercial actress and a stunt performer in addition to directing and producing her own films! She's been working in the entertainment industry in one form or another since she was 6 years old! Her breadth of experience is truly astounding and I could spend multiple episodes just talking about the various projects she's worked on. However, for the purposes of this podcast, I decided to focus on America's voice acting resume and how she was able to translate her theatrical and stunt experience into becoming a motion capture actress.
One of the most interesting developments in the entertainment industry in the past decade or so has been the incorporation of motion capture performances into films and video games. Motion Capture, also called Performance Capture, is a means of recording an actor's performance not on film, but digitally inside the virtual 3D space of a computer. This allows animators to then manipulate that performance and use it to bring characters to life in films and video games.
Motion Capture is utilized extensively in the video game industry to help animate characters for gameplay. It's also used to create in-game cinematics. More and more actors are being asked not only to voice a character in a video game, but to supply a physical performance for that character as well. Since this is such a new and developing niche, I felt it was important to share with my audience what it takes to work in the world of Motion Capture.
While there are certain techniques specific to motion capture that you definitely must master in order to be successful, motion capture is still acting; it requires the same solid acting skills that any performance medium does. Therefore, in the first part of this interview, America and I discuss her background as a performer. We cover what inspired her to pursue acting, what challenges she faced early in her career, and how she was able to break into the industry. Following America's journey towards becoming a professional actress in film and voice over is very enlightening. It will help you understand the foundational skills you as a voice actor need to develop in order to be an effective Motion Capture performer. That way you can be prepared when the opportunity arrises!
Download Voice Acting Mastery Episode #117 Here (MP3)