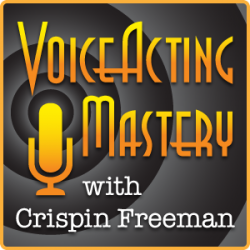 VAM 006 | Interview with Wes Davis, Part 1
Welcome to the sixth episode of the Voice Acting Mastery podcast with yours truly, Crispin Freeman!
As always, you can listen to the podcast using the player above, or download the mp3 using the link at the bottom of this blog post. Also, the podcast is now available via the iTunes Store online. Just follow this link to view the podcast in iTunes:
http://www.voiceactingmastery.com/podcast
This is the first part of my interview with Wes Davis, a young and talented voice actor who was gracious enough to sit down with me and talk about his experiences breaking into the voice over business. I think you'll find it useful to hear the challenges he faces today when approaching voice acting professionally especially in contrast to my experiences breaking in back in the late 1990's. If you'd like to learn more about Wes, feel free to check out his voice acting website:
In this episode, I ask Wes a number of different questions including:
What inspired you to become a voice actor?
What has the journey of an aspiring voice actor been like?
Have you ever been discouraged trying to break into the business?
How did you first voice acting job go?
In the next episode, Wes and I will be discussing how he goes about finding voice acting gigs, his experiences with his agent and much more!
As always, I welcome your questions and feedback! If you feel inspired, please leave a comment on this blog post.
Thanks for listening!
Download Voice Acting Mastery Episode #6 Here (MP3)