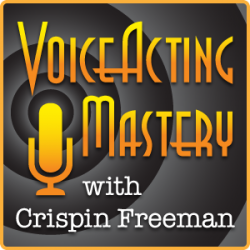 VAM 070 | Interview with Andrea Toyias, Part 3
Welcome to episode 70 of the Voice Acting Mastery podcast with yours truly, Crispin Freeman!
As always, you can listen to the podcast using the player above, or download the mp3 using the link at the bottom of this blog post. The podcast is also available via the iTunes Store online. Just follow this link to view the podcast in iTunes:
http://www.voiceactingmastery.com/podcast
This is the third part of my interview with my good friend, the incredibly talented voice director, Andrea Toyias. Andrea works for Blizzard Entertainment and has voice directed on such high profile titles as World of Warcraft: Cataclysm and Diablo III. We first met while working on Diablo III, where I played the voice of the Male Wizard. We've admired each other's work ever since.
In the last episode, Andrea shared with us what she's looking for from a voice actor when they audition for her. She discussed how important it is for an actor have a playful nature.  She also talked about how helpful it is when an actor truly understands the style or the genre of the project they're working on and she shared an amazing story of working with the legendary voice actor, Frank Welker.
In this episode, Andrea and I talk about the challenges that a voice director faces when trying to guide a project so that it comes out well. There are many people and many personalities a voice director needs to manage in order to ensure that she captures believable performances that will work well together in the final product. Andrea and I also discuss the nature of collaboration and what it takes to work with other artists in order to create storytelling that is captivating and appealing.
Later, I share with Andrea what I appreciate about talented directors like her and how they help make my work as a voice actor easier and more satisfying. Listening to this segment will really give you an insight into the mind of a voice director so you can understand what challenges they face and how to interact with them more effectively.
Download Voice Acting Mastery Episode #70 Here (MP3)