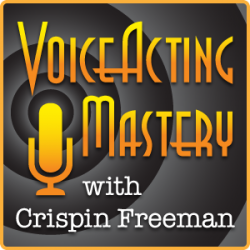 VAM 038 | Q & A Session 03 – Finding Voice Acting Coaches & Classes
Welcome to episode 38 of the Voice Acting Mastery podcast with yours truly, Crispin Freeman!
As always, you can listen to the podcast using the player above, or download the mp3 using the link at the bottom of this blog post. The podcast is also available via the iTunes Store online. Just follow this link to view the podcast in iTunes:
http://www.voiceactingmastery.com/podcast
For this episode, I thought I would play another of the voicemail questions that I've been getting from my listeners and do my best to answer it. For those who don't know, in past episodes,  I've given out a phone number where you can call in and leave me a question as a voicemail. From time to time, I'll pick the most relevant questions I receive and answer them here on the podcast.
For this round of Q & A, I answer a question from Charles of Reno, NV. Charles wants to know how to find reputable coaches and classes who can help him develop both his voice acting craft and his knowledge of the business, including information about demos.
Charles may not have realized it, but his question speaks to the emotional core of why I created this blog and podcast in the first place. I've been fortunate enough to have a number of amazing teachers in my life to whom I am eternally grateful, and as a teacher myself, I take the student-teacher relationship very seriously. If an earnest, sincere student comes to a teacher for guidance and training, then I believe it is vitally important for the teacher to do their very best, using whatever skills they have, to help that student grow as much as possible. So I spend this episode answering Charles' question in detail. I hope you and the many others I have encountered who have asked this same question will find my response useful.
In this podcast, I not only explain how to find coaches and classes, I also outline 4 criteria for evaluating them:
Does the coach work in the field you're pursuing?
Does the coach's teaching style appeal to you?
Do other people recommend that coach?
Be wary of all-in-one courses that offer you a demo at the end of the course.
I think you'll find my in-depth explanation of these criteria very helpful.
As a reminder, the number where you can call in and ask your question is:
323-696-2655.
Please don't forget to include your first name and what city in the world you're calling from. I'm looking forward to hearing from you!
I also reference a number of websites in my podcast. I'll list those websites here:
Voice Over Resource Guide (VORG): http://www.voiceoverresourceguide.com
Internet Movie Database (IMDB): http://www.imdb.com
Voice Acting Alliance (VAA): http://www.voiceactingalliance.com
Voice Acting Club (VAC): http://www.voiceactingclub.com
Voiceover Universe (VU): http://www.voiceoveruniverse.com
Thanks for listening!
Download Voice Acting Mastery Episode #38 Here (MP3)