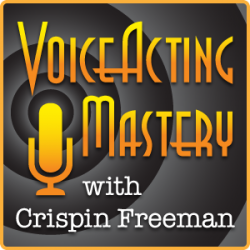 VAM 003 | 7 Most Common Questions About Voice Acting, Part 3
Welcome to the third episode of the Voice Acting Mastery podcast with yours truly, Crispin Freeman!
As always, you can listen to the podcast using the player above, or download the mp3 using the link at the bottom of this blog post. Also, I've officially submitted the podcast feed to iTunes, so you should be able to look me up in the iTunes music store very soon! I'm looking forward to that!
This is the third and final episode in a series of episodes I've entitled the 7 Most Common Questions I get asked about voice acting. If you haven't listened to Episodes 1 & 2, I highly recommend you go back and check them out! Here's the link to the blog post with the first episode:
Voice Acting Mastery, Episode #1
And here's a link to the second episode:
Voice Acting Mastery, Episode #2
In Episode 3, I'll be answering questions 5, 6 & 7 which are:
5. Do I need a demo?
6. Do I need an agent and how do I get one?
7. How do I get a voice acting job?
This will serve to round out the most common questions I get and hopefully will give you a lot of food for thought.
If you have any questions or insights, please let me know by leaving a comment on this blog post!
In the next episode, I'll be diving into how I got started as a voice actor!
Thanks for listening!
Download Voice Acting Mastery Episode #3 Here (MP3)