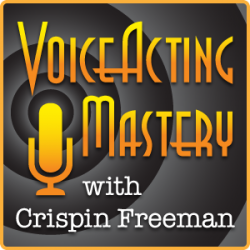 VAM 060 | The 5 Things I Love Most About Voice Acting
Welcome to episode 60 of the Voice Acting Mastery podcast with yours truly, Crispin Freeman!
As always, you can listen to the podcast using the player above, or download the mp3 using the link at the bottom of this blog post. The podcast is also available via the iTunes Store online. Just follow this link to view the podcast in iTunes:
http://www.voiceactingmastery.com/podcast
For this, the 60th episode of the podcast, I thought I'd spend some time talking about the 5 things I love most about voice acting and why I find voice acting such an enjoyable and enriching occupation. Many of you may also appreciate the same aspects of voice acting that I do, but haven't really put your thoughts into words. Others of you may not know as much about voice acting and might wonder what the appeal is of pursuing such a career. Whether you've just started researching voice acting or are completely committed to finding your niche in the world of voice over, I find that it can really help clarify one's goals in life to sit down and take stock of all the things one enjoys about a certain pursuit. Focusing on all the things you appreciate about being a voice actor will not only inspire you to follow your voice acting goals with more vigor and enthusiasm, but I believe it will actually accelerate your journey towards your goal. You become what you think about. So let's spend this episode thinking about some of the positive aspects of a voice acting career in order to bring that vision to fruition.
The 5 Things I Love Most About Voice Acting are:
As a Voice Actor, I get to work in a field of entertainment that I've loved since I was young, namely Animation, Video Games and Anime.
Voice acting allows me as an actor to play characters I would have very little chance of playing in live action productions.
Voice acting feels like more of a meritocracy to me than on-camera acting.
As a Voice Actor, I get to live where I work and work where I live.
Voice acting allows me perform while still being able to maintain my privacy and anonymity.
I expand on each of these topics in detail in the podcast.
I'm eager to hear what you love most about voice acting! Please let me know by leaving a comment on this blog post!
All the best to you in your voice acting endeavors!
Download Voice Acting Mastery Episode #60 Here (MP3)