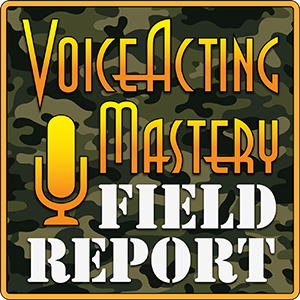 VAMFR 020 | Theme Park Voice Over, Part 2
Welcome to episode 20 of the Voice Acting Mastery: Field Report podcast!
You can listen to the podcast using the player above, or download the mp3 using the link at the bottom of this blog post. The podcast is also available via the iTunes Store online. Just follow this link to view the podcast in iTunes:
http://www.vamfieldreport.com/podcast
This is the second part of a special report on Theme Park Voice Over jobs by our special correspondent, Tom Bauer!
In the previous episode, he began exploring the differences between the two main categories most commonly found in Voice Over for Theme Parks: Pre-recorded Voice Over and Live Voice Acting Performances.
In this episode, Tom will be discussing at length the casting process involved in Theme Park Voice Over. He'll be diving deep into what the audition experience is like and what it might take to get hired to do voices at your favorite park. He'll also be sharing with you where to find these opportunities to audition.
Tom's five special guests from the previous episode are back again to share their insights into the casting experience. We'll be hearing from Rebecca Lumianski, who is a talented actor and Consulting Director at Disneyland for shows like "Turtle Talk with Crush", and Joe Hernandez, who Tom mentioned previously as the head talent and show trainer for Turtle Talk and a talented voice actor, recently featured as the character of Daruk from The Legend of Zelda: Breath of the Wild. Tom will also talk with the husband and wife team of Bill Rogers and Camille Dixon, who provide the official announcement voices for Disneyland and Disney California Adventure, respectively. Last, but not least, Isaac Robinson Smith will be also joining. Isaac is a versatile performer for Universal Studios Hollywood and a former Turtle Talk actor. He provides the voice of Megatron and Optimus Prime from the Transformers film franchise as part of a character meet and greet that Universal Studios guests can interact with. It was really interesting hearing their perspectives on the audition experience for Theme Parks and Tom can't wait to share with you what he learned!
The VAM Field Report will be released on the 1st Wednesday of every month so stay on the look out for it!
Download VAM Field Report Episode #20 Here (MP3)