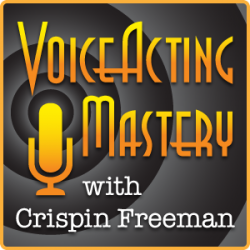 VAM 107 | Q & A Session 21 – Do You Have What It Takes to Succeed as a Voice Actor?
Welcome to episode 107 of the Voice Acting Mastery podcast with yours truly, Crispin Freeman!
As always, you can listen to the podcast using the player above, or download the mp3 using the link at the bottom of this blog post. The podcast is also available via the iTunes Store online. Just follow this link to view the podcast in iTunes:
http://www.voiceactingmastery.com/podcast
In this episode, I continue answering questions from my podcast audience! For those who may not be as familiar with the podcast, in past episodes, I've given out a phone number where you can call in and leave me a question about voice acting as a voicemail. From time to time, I'll pick the most relevant questions I receive and answer them here on the podcast.
For this round of Q & A, I answer a question from Varna from Rock Hill, SC.
Varna has what seems like a perfectly straightforward question. She asks how do you know if you have what it takes to become a voice actor. She's gotten compliments on her voice from her friends, but she doesn't know how to determine if she really is capable of succeeding in voice acting as a career. In addition she wants to know how I knew that I would succeed as a voice actor.
If you're wondering whether or not you have what it takes to be a professional voice actor, you're not alone. It can be difficult when looking in from the outside to determine exactly what is required to become successful in such a specific and often poorly-understood profession. As of now there are no college degrees I know of for voice acting, nor is there any official or accredited path into the voice over industry. While many professions require specialized schooling, exams and licenses, voice acting seems mysterious because people from all walks of life seem to achieve varying levels of success. What's even more confusing is that formal acting education may or may not be the determining factor in any one person's success. Some people seem to be "naturals" while others need more structured training. Because Varna's question is so common and every person who asks it faces a different journey on the way to a voice acting career, I've decided to spend this entire episode deciding once and for all "what it takes" to be a successful voice actor.
I hope you find the answer to her question useful in your own voice acting endeavors!
If any of my listeners would like to call in with your own thoughts, thank you's or questions, the number is:
323-696-2655.
Please don't forget to include your first name and what city in the world you're calling from. I'm looking forward to hearing from you!
Thanks for listening!
Download Voice Acting Mastery Episode #107 Here (MP3)