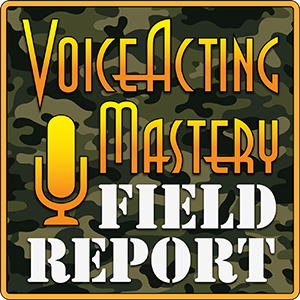 VAMFR 019 | Theme Park Voice Over, Part 1
Welcome to episode 19 of the Voice Acting Mastery: Field Report podcast!
You can listen to the podcast using the player above, or download the mp3 using the link at the bottom of this blog post. The podcast is also available via the iTunes Store online. Just follow this link to view the podcast in iTunes:
http://www.vamfieldreport.com/podcast
This is the first part of a special report on Theme Park Voice Over jobs by our special correspondent, Tom Bauer!
Tom is very excited to explore with you a subject that's near and dear to his heart, Voice Over for Theme Parks. This particular field of the voice over industry often goes unnoticed by most people because when it's done well it blends so seamlessly into the experience of the visitor.
It recently dawned on Tom that voice over actors are the hidden artists who provide the audio atmosphere and essential back stories that help bring theme parks to life. From ride narration and live interactive shows, to park-wide announcements and parking lot tram spiels, voice actors help guide and entertain everyone who visits.
In fact, making sure the audience is having the best possible experience is exactly what Tom gets called on to do as a theme park voice actor! Tom's been fortunate enough to be cast as the voice of Crush the Turtle in a show called "Turtle Talk with Crush" at the Disneyland Resort in Anaheim, California. You may remember the character of Crush as the laid-back, surfer-dude sea turtle from the 2003 Disney/Pixar Film, "Finding Nemo" and its 2016 sequel "Finding Dory". If you've been a Voice Acting Mastery listener for a while, you may have heard Tom mention his work as Crush in previous episodes of the Field Report. "Turtle Talk with Crush" is a live, interactive experience located in the Hollywood Land area of Disney California Adventure.
Many people ask Tom what it's like to portray Crush in this sort of interactive experience. They're also curious how he was able to book this unique job in the first place! As it became clear to Tom that people were genuinely fascinated by this type of theme park voice over work, he had a feeling it might make a great topic for a special report.
Tom quickly realized that even though he worked in a theme park, he didn't know much about the different types of voice over work that were involved in running it, outside of his experiences on Turtle Talk. As he explored, he soon discovered there were many areas of the resort that utilized talent from voice actors in interesting ways, so he decided that theme park voice acting would be an excellent subject for all of us to learn more about together!
To help Tom unlock the secrets behind this enigmatic topic, he spoke with five distinguished and talented individuals currently involved in the realm of Theme Park Voice Over including:
Rebecca Lumianski, a Consulting Director at Disneyland for shows like "Turtle Talk with Crush".
Joe Hernandez, a professional Voice Over Artist and the head talent and Show Trainer for Turtle Talk.
Bill Rogers & Camille Dixon, the husband-and-wife VO team who provide the official announcement voices for Disneyland and Disney California Adventure, respectively.
Isaac Robinson Smith, a versatile performer who provides the voice of Megatron and Optimus Prime from the Transformers film franchise as part of a character meet and greet at Universal Studios.
Tom would like to thank all five of these talented individuals for taking the time to sit down with him and share their wisdom on the subject of Theme Park Voice Over. He learned quite a bit from each of them as they talked about their various experiences in their respective fields of expertise. I'm sure that you will, too.
The VAM Field Report will be released on the 1st Wednesday of every month so stay on the look out for it!
Download VAM Field Report Episode #19 Here (MP3)