Posted by
Crispin Freeman
on May 4, 2016 in
Accents & Dialects
,
Acting
,
Agents
,
Animation
,
Anime
,
Appearances
,
Booth Etiquette
,
Casting
,
Commercials
,
Field Report Podcast
,
Improv
,
Interviews
,
Mindset
,
Video Games
|
8 comments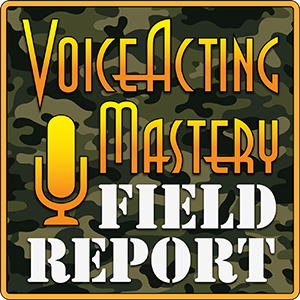 VAMFR 008 | Interview with Erika Harlacher, Part 2
Welcome to episode 8 of the Voice Acting Mastery: Field Report podcast!
In this episode our correspondent, Tom Bauer, concludes his interview with the prolific and mult-talented Erika Harlacher.
Erika has been featured in a number of Anime titles, including roles such as Princess Asseylum Vers Allusia in Aldnoah.Zero and  Sadira in Killer Instinct.
In the previous episode, Erika and Tom talked about how she got her start in voice acting and some of the struggles she had coping with her self-doubt. Erika has found that being patient with herself and developing a strong, emotional support system of friends and colleagues has helped give her the confidence she needs when performing in the booth.
In this episode, Tom and Erika discuss the importance of taking classes as well as practicing on your own in order to develop and expand your skill set as an actor. If you are pursuing a professional voice acting career, it is vitally important for you to have faith in your acting abilities, especially when you are called on to perform in the different realms of Voice Over such as Anime and Video games. Erika also talks about her plans for the future as well as giving some practical advice for those wanting to get into Voice Over. Let's hear what she has to share!
The VAM Field Report will be released on the 1st Wednesday of every month so stay on the look out for it!
Download VAM Field Report Episode #8 Here (MP3)