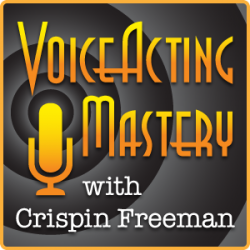 VAM 058 | Q & A Session 09 – Expanding Your Character Types & Auditioning for Schools
Welcome to episode 58 of the Voice Acting Mastery podcast with yours truly, Crispin Freeman!
As always, you can listen to the podcast using the player above, or download the mp3 using the link at the bottom of this blog post. The podcast is also available via the iTunes Store online. Just follow this link to view the podcast in iTunes:
http://www.voiceactingmastery.com/podcast
In this episode, I continue answering questions from my podcast audience! For those who may not be as familiar with the podcast, in past episodes, I've given out a phone number where you can call in and leave me a question about voice acting as a voicemail. From time to time, I'll pick the most relevant questions I receive and answer them here on the podcast.
For this round of Q & A, I answer questions from Matt from Duluth, MN and Felocity from Tampa, FL.
Matt wants to know what he can do to expand his character types once he's found his signature sound.
In both this podcast and in my classes with my students I stress over and over again how important it is to know which characters suit your voice the best. I call this your character type. If you want to work as a professional voice actor, you need to know which characters you can play better than anyone else. If you don't know your character type, you will most likely be fighting an uphill battle trying to get cast as a voice actor. Episode 26 of the podcast is entitled: Discovering Your Character Types. For those of you who haven't heard it already, I suggest you give it a listen.
There are two aspects to understanding how to expand your range to allow you to play different characters believably:
The Technical Aspect
The Emotional Aspect
The technical side is the actual physical adjustments you need to make to your voice to create a character's sound. But the emotional side of a character voice requires you to understand the psychological basis of a character. That emotional aspect of a character can often be far harder to master than the technical side. I discuss this in depth in the podcast.
Felocity wants to know why certain acting schools ask their prospective students to audition even before they attend the school. This seems backwards to her since how can one know if one is talented at acting if you aren't able to take an acting class first?
I explain that there are plenty of voice acting classes that do not require you to audition, including the classes that I offer both in LA and Online.
However, I also address this issue of "talent" and how I think the notion of talent is not only overrated, but misleading. Talent is not the determining factor in having a successful voice acting career. Fascination is the key to success in any art form. If you are truly fascinated with a craft like voice acting, you will do whatever it takes to get better.
I explain the difference between talent and fascination and how I overcame my own lack of talent in the podcast!
I hope you find the answers useful in your own voice acting endeavors!
As a reminder, the number where you can call in and ask your question is:
323-696-2655.
Please don't forget to include your first name and what city in the world you're calling from. I'm looking forward to hearing from you!
Thanks for listening!
Download Voice Acting Mastery Episode #58 Here (MP3)