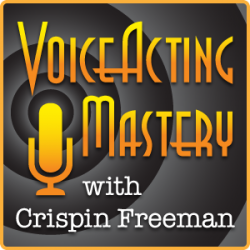 VAM 108 | Q & A Session 22 – How to Overcome Anxiety and Fear as a Voice Actor
Welcome to episode 108 of the Voice Acting Mastery podcast with yours truly, Crispin Freeman!
As always, you can listen to the podcast using the player above, or download the mp3 using the link at the bottom of this blog post. The podcast is also available via the iTunes Store online. Just follow this link to view the podcast in iTunes:
http://www.voiceactingmastery.com/podcast
In this episode, I continue answering questions from my podcast audience! For those who may not be as familiar with the podcast, in past episodes, I've given out a phone number where you can call in and leave me a question about voice acting as a voicemail. From time to time, I'll pick the most relevant questions I receive and answer them here on the podcast.
For this round of Q & A, I answer a question from Greg from Nashville, TN.
Greg wants to know what he can do to overcome his feelings of anxiety and fear when it comes to voice acting. He feels like it's getting in the way of taking his voice acting to the next level.
His question is a very common question. In fact, probably the most common question I get other than simply how to become a voice actor, is whether or not I can help someone overcome their feelings of anxiety. I actually did my best to address this question way back in episode 9 of the podcast entitled "Building Confidence", and I encourage Greg and everyone in my audience to listen to that episode if you haven't already.
However, I'd like to applaud Greg for asking this very common question in a very uncommon and insightful way. When you listen to his voice mail in the episode, you'll realize that he's clearly taken the time to analyze his own patterns of thought and his own internal emotional life. He understands the importance of mastering his own anxiety and he's even aware that it's possible to channel his nervous energy so that it can help him rather than hinder him.
Because Greg has put so much forethought into his question, and because he articulated it in such a clear and thorough manner, I'd like to take this entire episode to share with all my listeners the best tools I know of to help overcome anxiety from an actor's perspective. Hopefully that will give Greg and my entire audience added confidence when pursuing your own voice acting goals.
If any of my listeners would like to call in with your own thoughts, thank you's or questions, the number is:
323-696-2655.
Please don't forget to include your first name and what city in the world you're calling from. I'm looking forward to hearing from you!
Thanks for listening!
Download Voice Acting Mastery Episode #108 Here (MP3)