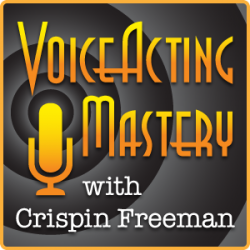 VAM 106 | Q & A Session 20 – How to Overcome Envy and Self-Doubt as a Voice Actor
Welcome to episode 106 of the Voice Acting Mastery podcast with yours truly, Crispin Freeman!
As always, you can listen to the podcast using the player above, or download the mp3 using the link at the bottom of this blog post. The podcast is also available via the iTunes Store online. Just follow this link to view the podcast in iTunes:
http://www.voiceactingmastery.com/podcast
In this episode, I continue answering questions from my podcast audience! For those who may not be as familiar with the podcast, in past episodes, I've given out a phone number where you can call in and leave me a question about voice acting as a voicemail. From time to time, I'll pick the most relevant questions I receive and answer them here on the podcast.
For this round of Q & A, I answer questions from Eric from Nashville, TN .
Eric has a very personal question to ask. He's been helping a friend of his learn more about voice acting and he's even gone so far as to help her set up her home studio and give her some acting coaching. It turns out that Eric's efforts were very effective because his friend is now booking voice acting work. Unfortunately, Eric now feels a bit of jealousy because he is not booking as much work as his friend is. His frustration is compounded by the fact that his friend is new to the world of voice acting whereas he has been studying acting for quite some time. Her success has made him doubt his own abilities and has made him feel inadequate.
A situation like this happens to almost every artist and I'm glad that Eric has given me the opportunity to address it. Learning how to defuse envy and self-doubt is an incredibly important ability and I'm happy to share the most useful techniques I have found to help both Eric and my listeners get back on track!
I hope you find the answers to his question useful in your own voice acting endeavors!
If any of my listeners would like to call in with your own thoughts, thank you's or questions, the number is:
323-696-2655.
Please don't forget to include your first name and what city in the world you're calling from. I'm looking forward to hearing from you!
Thanks for listening!
Download Voice Acting Mastery Episode #106 Here (MP3)