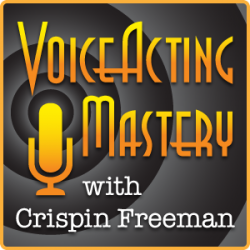 VAM 115 | The Computer Skills and Audio Knowledge You Need to Be a Voice Actor, Part 2
Welcome to episode 115 of the Voice Acting Mastery podcast with yours truly, Crispin Freeman!
As always, you can listen to the podcast using the player above, or download the mp3 using the link at the bottom of this blog post. The podcast is also available via the iTunes Store online. Just follow this link to view the podcast in iTunes:
http://www.voiceactingmastery.com/podcast
In the last episode, I outlined the basic computer skills you need in order to be able to record professional quality audio in your home studio. I spoke in depth about the structure of your computer and how it interfaces with any external audio devices you may be using such as a USB microphone or a USB audio interface. If you haven't listened to the previous episode yet, I highly recommend that you review it before continuing. As I move forward, I'm going to be building on the information I shared with you last time.
In this episode I want to talk in depth about the process of recording audio on a professional level. Most beginning voice actors do not have a solid understanding of what it means to record professional level audio. With the proliferation of smart phones and other consumer level portable digital recording devices, we've all become very accustomed to recording both audio and video on the spur of the moment. We often watch videos and listen to audio that our friends and family post on social media websites. While these shared moments of audio and video may be spontaneous and candid, they almost never approach a level of quality that is acceptable for professional audio environments. Just imagine if the sound in the next big movie or TV show you decided to watch was recorded on your cell phone. It would be difficult for you to listen to it for long without being frustrated by the low quality of the audio. It takes studio professionals countless hours of focused attention and hard work to achieve the crystal-clear dialogue, sound effects and music you hear in your favorite Hollywood films and television series. If your goal is to be a professional voice actor who regularly collaborates with these industry professionals, you need to know how to achieve a more rarified level of audio quality in your own recordings.
I'm going to explain to you the basics of digital recording and what it takes to record audio on a professional level from your home studio. While a complete course on how to record studio-grade audio is beyond the scope of this podcast, I do want to provide my listeners with straightforward metaphors for understanding the process. I also want to address some common mistakes and misconceptions beginners often stumble over when approaching digital recording. I'll explain in detail what's going on inside your audio equipment so you'll be better prepared for the next episode, where I'll share best practices and more mistakes to avoid when recording yourself. While some of this might seem complicated at first, I'm going to do my best to simplify things. I want you to have a solid understanding so you can spend more time focusing on your voice acting performances and less time stressing about technical issues, while still producing professional quality audio. As I mentioned in the last episode, it may be good for you to have a notebook nearby to write down some of the terms and ideas I'll be discussing. Let's get started!
As always, you can check out the Toolbox section of this website for my recording software and hardware recommendations.
In the beginning of this episode, I promised to include diagrams here on the website to help show how sound actually works. When you hear something, your ears are responding to sound waves that are moving through the air. These sound waves compress and stretch the molecules in the air around you, creating vibrations that your ear drums can detect. The faster the compression and stretching of air that occurs, the higher the perceived pitch of the sound. The slower, the lower the pitch. You can see that compression and stretching in the diagram below.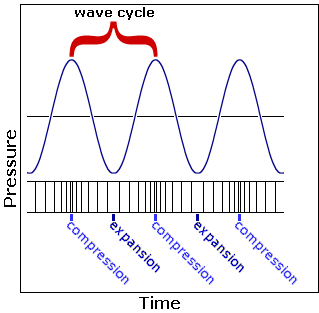 This compression rate is also called the frequency of the sound, since the pitch of a sound is determined by how frequently the sound waves strike your ear drum within a certain time period. The volume of a sound depends on the size of those waves, which is also called their amplitude. The higher the amplitude of a sound wave, the louder you perceive it to be and vice versa. So a quiet, high pitched sound has a low amplitude and a high frequency, while a loud, low pitched sound has a high amplitude and a low frequency. You can see this in the diagram below. The solid blue line is the quiet, high pitched sound wave and the dashed red line is the loud, low pitched sound.
Download Voice Acting Mastery Episode #115 Here (MP3)