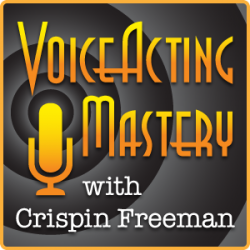 VAM 110 | Interview with Stephanie Sheh, Part 2
Welcome to episode 110 of the Voice Acting Mastery podcast with yours truly, Crispin Freeman!
As always, you can listen to the podcast using the player above, or download the mp3 using the link at the bottom of this blog post. The podcast is also available via the iTunes Store online. Just follow this link to view the podcast in iTunes:
http://www.voiceactingmastery.com/podcast
Welcome to the second part of my interview with the talented and amazingly driven voice actress, Stephanie Sheh! You may be familiar with her work from shows like the Legend of Korra, Naruto and Sailor Moon. Stephanie is not only a talented voice actress, but she also has experience as a producer, director and even as a recording engineer! I'm thrilled and grateful to have someone with her breadth of knowledge on the podcast to talk with us about what it takes to be successful in the industry!
In our last episode, Stephanie discussed how she broke into voice acting and what emotional hurdles she had to overcome to pursue a voice acting career. In the second part of our conversation, Stephanie shares with us what inspired her to pursue acting in the first place. It was her burning desire to perform that kept her motivated to study the craft of acting, even in the face of disapproval and uncertainty. While Stephanie's parents encouraged her to pursue acting as a hobby so that she could enrich herself on a personal level, they were very skeptical that acting could ever be a reliable career choice for her. They were understandably worried about their daughter's future and wanted to make sure that she could provide for herself.
Stephanie realized that if she was truly going to make it as a performer, she would have to be resourceful and self-motivated. She pursued every avenue she could to develop her skills, and you can feel her tenacity when she speaks of what it takes to succeed as a professional actor. I think you'll find her insights invaluable.
Download Voice Acting Mastery Episode #110 Here (MP3)