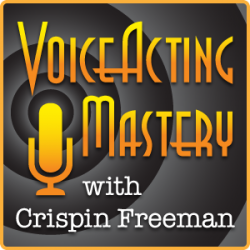 VAM 047 | Interview with Steve Blum, Part 2
Welcome to episode 47 of the Voice Acting Mastery podcast with yours truly, Crispin Freeman!
As always, you can listen to the podcast using the player above, or download the mp3 using the link at the bottom of this blog post. The podcast is also available via the iTunes Store online. Just follow this link to view the podcast in iTunes:
http://www.voiceactingmastery.com/podcast
This week, I continue my interview with my good friend and amazingly accomplished voice actor, Steve Blum. In part 2 of our conversation we discuss how Steve's musical background helped him improve his acting skills. We then spend some time breaking down the acting process from a left brain/right brain perspective. Afterwards we talk about the importance of truly becoming a character and how it's not something you can accomplish by just following a recipe. What I appreciate about Steve's journey is that he has learned all of his lessons from personal experience working in the industry. This gives an authority to his insights that you cannot get from someone who may have studied a subject, but has never tried to do it themselves. I'm sure you'll find it useful.
If you'd like to learn more about Steve, please visit his website: www.SteveBlumVoices.com
Thanks for listening!
Download Voice Acting Mastery Episode #47 Here (MP3)