Posted by
Crispin Freeman
on Oct 7, 2015 in
Acting
,
Animation
,
Anime
,
Audiobooks
,
Booth Etiquette
,
Casting
,
Commercials
,
Field Report Podcast
,
Improv
,
Interviews
,
Mindset
,
Video Games
|
20 comments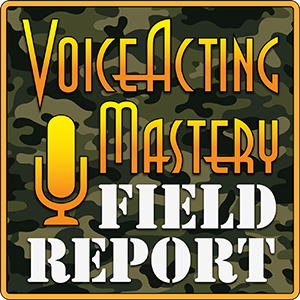 VAMFR 001 | Introducing the Voice Acting Mastery Field Report and Correspondents
Welcome to episode 1 of the Voice Acting Mastery: Field Report podcast!
Greetings everyone! As promised, Voice Acting Mastery is continuing to evolve and expand to serve the needs of our listeners and students. As part of that expansion, I'm proud and honored to present the first episode of our brand new sister podcast, the Voice Acting Mastery Field Report!
All of us at Voice Acting Mastery have been working hard for quite some time behind the scenes to put together this exciting new show for you. It's our goal to help you gain an even greater perspective on the world of voice over by sending real, working voice actors into the field to conduct interviews and share stories about what's currently happening in the industry. If you're already a Voice Acting Mastery fan, you know that I've done my personal best to share my own experiences and expertise on the subject and to provide the best road map I could to help my listeners and students succeed as voice actors. However, I've always known that my perspective was only one among many, so over the years I've also turned to trusted colleagues and industry experts to bring added wisdom and experience. It's vitally important to me that my listeners have access to as many relevant viewpoints and up-to-date stories as possible, because the voice over world keeps changing as new technology, new markets and new media enter the scene. I've been looking forward to expanding the Voice Acting Mastery family and bringing in talented, enthusiastic voice acting professionals to help our listeners understand the current state of the industry, and how best to approach building a successful career in today's environment.
In this, our pilot episode, you'll be meeting our three VAM Field Report correspondents, Ashley Huyge, Tom Bauer and DanWill "DW" McCann. I felt it would be helpful for you to get a sense of who they are, to hear about their voice acting backgrounds, and especially to become familiar with how they sound! You'll be spending time with them often in the future, and I'm sure you'll enjoy getting to know them and hearing their unique perspectives on the voice over world. They were all gracious enough to sit down with me and give me some insight not only into their own personal journeys as voice actors, but also to share a little bit about some topics they're planning on covering in future episodes of the Field Report. I decided to include all of their stories in this first episode so as not to break up the flow of the group interview, so I hope you'll enjoy this bonus-length episode. I'm eager to share these vibrant and talented individuals with all our listeners.
The VAM Field Report will be released on the 1st Wednesday of every month so stay on the look out for it!
Download VAM Field Report Episode #1 Here (MP3)