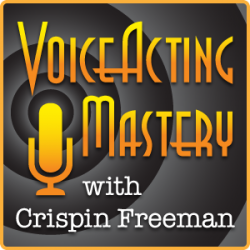 VAM 050 | How to Tame Your Internal Critic
Welcome to episode 50 of the Voice Acting Mastery podcast with yours truly, Crispin Freeman!
As always, you can listen to the podcast using the player above, or download the mp3 using the link at the bottom of this blog post. The podcast is also available via the iTunes Store online. Just follow this link to view the podcast in iTunes:
http://www.voiceactingmastery.com/podcast
Allow me to begin by celebrating the 50th episode of this podcast! What a milestone! When I started this podcast almost 2 years ago, I had no idea it would grow into the phenomenon it is now! A big thank you to all my listeners. I'm honored that you've been spending so much time with me over the past 2 years!
In this episode, I promised to talk about a subject that Steve Blum and I brought up at the end of his interview with me. We talked about the part of your brain that generates negative thoughts. Some people call it the ego, others call it the monkey mind or the coconut. I tend to call it the internal critic. Whatever name you give it, there is a part of your brain that seems to feel the need to make you feel bad and fill your head with negative thoughts. Ironically, it tends to come out most often when you're trying to pursue your dreams. Why does your brain do this and how can you overcome it? That's exactly what I'm going to talk about in this episode!
I'd like give a big thank you to all my listeners, whether this is your first episode or you've been with me from the beginning.
If you're enjoying the podcast, I would really appreciate it if you could give me a positive review in the iTunes Music Store! Here's how:
Follow the link to the Voice Acting Mastery Podcast in iTunes. Your browser should open up to a page listing the podcast.
Click on the View in iTunes button which looks like this:  in order to view the podcast in iTunes. (NOTE: You must have iTunes installed on your computer for this to work)
Once you're inside the iTunes program, click on "Ratings and Reviews". It looks like this: 
That's it! Thanks for giving me a positive review on iTunes, and I'm looking forward to another 50 episodes!
Download Voice Acting Mastery Episode #50 Here (MP3)