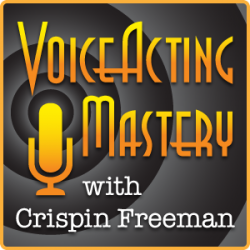 VAM 093 | Interview with Phil LaMarr, Part 1
Welcome to episode 93 of the Voice Acting Mastery podcast with yours truly, Crispin Freeman!
As always, you can listen to the podcast using the player above, or download the mp3 using the link at the bottom of this blog post. The podcast is also available via the iTunes Store online. Just follow this link to view the podcast in iTunes:
http://www.voiceactingmastery.com/podcast
Today, I have a very special treat for my listeners!
Welcome to the first part of my interview with the amazingly versatile voice actor Phil LaMarr.
Phil's roles in animation run the gamut from Hermes Conrad in Futurama, to the John Stewart Green Lantern in Justice League, to Kit Fisto in Star Wars: Clone Wars to the title character in Samurai Jack. I'm so grateful to Phil for taking the time to share with us his unique perspective on voice acting.
In this first episode, we focus on his very early career. Phil talks with me about some of the challenges he faced after college when he made his first serious attempts to break into the entertainment business as an actor. While he did not feel like he made much progress initially, it turns out the challenges and frustrations he faced ended up helping him focus his attention on what he truly wanted to achieve and on what it would take to accomplish his goals.
But I'll let Phil tell you about that.
Download Voice Acting Mastery Episode #93 Here (MP3)