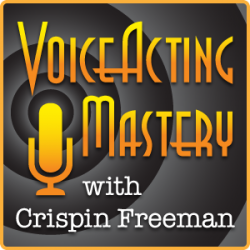 VAM 122 | Q & A Session 24 – Should You Pursue a Career that Pleases Your Parents or Follow Your Voice Acting Dreams?
Welcome to episode 122 of the Voice Acting Mastery podcast with yours truly, Crispin Freeman!
As always, you can listen to the podcast using the player above, or download the mp3 using the link at the bottom of this blog post. The podcast is also available via the iTunes Store online. Just follow this link to view the podcast in iTunes:
http://www.voiceactingmastery.com/podcast
In this episode, I continue answering questions from my podcast audience! For those who may not be as familiar with the podcast, in past episodes, I've given out a phone number where you can call in and leave me a question about voice acting as a voicemail. From time to time, I'll pick the most relevant questions I receive and answer them here on the podcast.
For this round of Q & A, I answer a very important question from Jessie of Chicago, IL.
Jessie wants to know if he should live a stable, conventional life that makes him miserable, or should he take chances with his future, live unconventionally, and lose everything.
I'm grateful to Jessie for his very philosophical question! It's actually a really important subject to cover, so I'm going to spend this entire episode making sure I address it fully.
I begin by exploring the false dichotomy that is at the root of Jessie's question.
While it's true that making choices about one's career is not something that should be taken lightly, Jessie's articulation of the issue is a little extreme.
So I do my best to help Jessie avoid such a no-win scenario by taking a step back and assessing what it is he is really trying to accomplish here. I start by clearly articulating the issues that are at stake for Jessie and for anyone who find themselves in a similar predicament.
It seems to me there are 3 topics implicit in Jessie's question. 1) his financial well being, 2) his personal satisfaction with his career, and 3) his parents' respect and approval. While I believe it is possible to achieve success in all three of these areas, it can be challenging depending on your situation, your abilities, and the cultural values of your family.
After exploring each one of these topics in detail, I share with Jessie my own experiences trying to balance what I wanted to do with my life with what was expected of me by my parents.
Because this topic is a concern that many aspiring voice actors have when they contemplate pursuing an artistic career, I'm hoping that answering his question in detail will benefit a great many of my listeners!
If any of my listeners would like to call in with your own thoughts, thank you's or questions, the number is:
323-696-2655.
Please don't forget to include your first name and what city in the world you're calling from. I'm looking forward to hearing from you!
Thanks for listening!
Download Voice Acting Mastery Episode #122 Here (MP3)